Kathleen Fuchs Hritz, an experienced higher education administrator with an extensive background in nonprofit management and community building, has joined the Vanderbilt Division of Government and Community Relations as senior director of community relations.
Hritz is a committed and skilled connector, collaborator and communicator with 15 years of experience designing and leading programs for community impact in Nashville. She most recently was assistant director for Vanderbilt's Turner Family Center for Social Ventures at the Owen Graduate School of Management, where interdisciplinary graduate students engage in experiential learning and leadership development focused on social impact through business.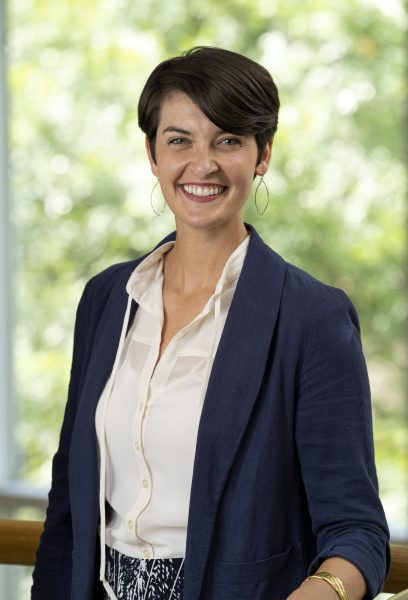 While at Owen, Hritz launched and led the Owen Board Fellows program, which places MBA students on nonprofit boards in Nashville for one-year fellowships to apply their business education through community leadership experience. Before joining Vanderbilt in 2016, Hritz's work with the YMCA of Middle Tennessee's Latino Achievers program focused on college access, leadership development and career success in Nashville for first-generation immigrant students.
She earned a bachelor's degree in human organizational development and Spanish from Vanderbilt. She graduated with a master's degree in civic leadership in 2014 from Lipscomb University and completed Vanderbilt's Executive MBA program in 2022.
Hritz serves on the board of FUTURO, a college leadership and professional network for first-generation Latino students, and once served on the Nashville Mayor's New American Advisory Council.
Hritz's deep connections in Nashville, combined with her ability to create strategic partnerships across many community sectors, will help Vanderbilt grow in collaborative relationships, said Vice Chancellor for Government and Community Relations Nathan Green.
Her role will focus on supporting Vanderbilt's mission, values and priorities by developing and maintaining strong relationships and by supporting programs and projects with community organizations and community leaders.
"Kathleen is known for cultivating strong partnerships that lead to positive systemic change," Green said. "Her skill in working well with a variety of organizations will help Vanderbilt continue to build relationships on behalf of the university that impact lives across Tennessee."
"I'm thrilled to continue to serve my community and my alma mater in this new capacity," Hritz said. "Vanderbilt's engagement across Nashville's communities must continue to be intentional, enduring and mutually beneficial, and I am eager to continue to build and strengthen our partnerships and relationships for positive impact."
Hritz starts her new position on March 6.