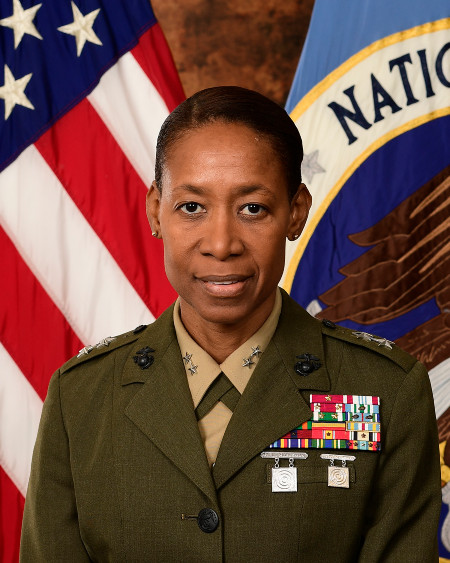 Maj. Gen. Lorna Mahlock, U.S. Marine Corps, will deliver a keynote address at the 2023 Vanderbilt Summit on Modern Conflict and Emerging Threats, scheduled for May 4–5.
Mahlock is deputy director of cybersecurity for combat support at the National Security Agency at Fort Meade, Maryland, where she is charged with preventing and eradicating threats to security systems and critical infrastructure.
"Maj. Gen. Mahlock's impressive expertise is earned and applied every day in her role as a guardian of cybersecurity for our armed forces," Provost C. Cybele Raver said. "Through her leadership in managing the threat landscape, combined with her stellar career trajectory to such high rank and impact in the Marine Corps, she will provide a compelling and informative keynote that hits at the heart of the many topics we'll address at the summit."
Mahlock was born in Kingston, Jamaica, and immigrated to Brooklyn, New York, when she was 17. She immediately joined the Marine Corps and was later selected for the Marine Corps Enlisted Commissioning Education Program. Mahlock earned her bachelor's degree in broadcast and electronic communication from Marquette University in 1991 and became an officer.
Mahlock has seen and experienced major changes in the Marines during her career, including women being allowed to serve in combat. Designated as an air traffic control officer, she commanded and led at various levels globally, including operations Southern Watch and Iraqi Freedom.
She also served as the Marine Corps' chief information officer, chief information security officer and director of command, communications and computers during a time of major upgrades to fuse the corps' enterprise network with its tactical edge on the battlefield. She has led at every echelon of the Marine Corps and deployed globally, including for operations Southern Watch and Iraqi Freedom.
In 2018, Mahlock became the first Black female Marine to achieve the rank of brigadier general in the Marine Corps.
She holds a master's degree in adult and higher education from the University of Oklahoma at Norman; a master's in national security and strategic studies with distinction from the Naval Post Graduate School in Newport, Rhode Island; a master's in strategic studies from the U.S. Army War College; and a master's certificate in information operations from the Naval Post Graduate School. She also is a graduate of the United Kingdom Defense College Higher Command and Staff.
Mahlock's many awards include the Legion of Merit, Defense Meritorious Service Medal, Meritorious Service Medal, Joint Service Commendation Medal, Joint Service Achievement Medal, Navy and Marine Corps Commendation Medal, Navy and Marine Corps Achievement Medal and Good Conduct Medal.
For more information about the Vanderbilt Summit on Modern Conflict and Emerging Threats, email modernconflict@vanderbilt.edu.