Members of Vanderbilt University's faculty, staff, postdoc and professional and graduate student communities will receive an invitation Jan. 27 to participate in a new housing study. The survey, which was commissioned by the Office of the Provost and Office of Real Estate, is the latest in a long-term effort to meet the community's evolving housing needs, but it is the first to explore solutions for faculty and staff. Vanderbilt is a residential campus for undergraduate students, who are exempt from this study.
"Housing is more than a commodity, it's a well-being issue," said Eric Kopstain, vice chancellor for administration. "We look to this study to inform creative housing solutions that benefit our faculty, staff, postdocs and graduate and professional students who, unlike our undergraduates, must navigate Nashville's competitive housing market to be a part of our community."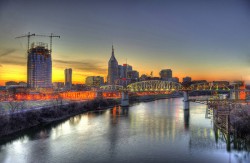 The study comes at a time when cranes dot Nashville's skyline, including in the Midtown neighborhood that surrounds Vanderbilt's campus. This construction provides residents with no shortage of inventory, but these often luxury options are not developed with the university's diverse community in mind.
This year, in addition to this study, the university engaged in a commute study and a staff census. All three requests for information contribute to the university's efforts to inform short- and long-term decisions that may help improve people's lives. The study will illuminate how housing concerns affect the well-being of Vanderbilt's community; the goal is to develop an array of recommendations to recruit and retain faculty, staff, postdocs and graduate and professional students. 
"We want to catalyze discovery in every corner of our community, not just in classrooms and labs, but also in our efforts to attract and retain the best students, faculty and staff," said C. Cybele Raver, provost and vice chancellor for academic affairs. "This study will inform a range of innovative solutions that ensure that housing is not a barrier to belonging and discovery at Vanderbilt."   
The study, which is conducted by Brailsford and Dunlavey, will inform the work of two housing committees that were announced in early December. The committees are charged with reviewing recommendations generated by the study and ensuring a range of viable, creative solutions that support Vanderbilt's long-term strategic goals. The entire process should be complete by summer 2023. 
All faculty, staff, postdocs, graduate students and professional students are encouraged to take the 10- to 15-minute survey. The deadline to respond is Feb. 5 at 11:59 p.m. CT. If you did not receive the survey, please email survey@bdconnect.com.