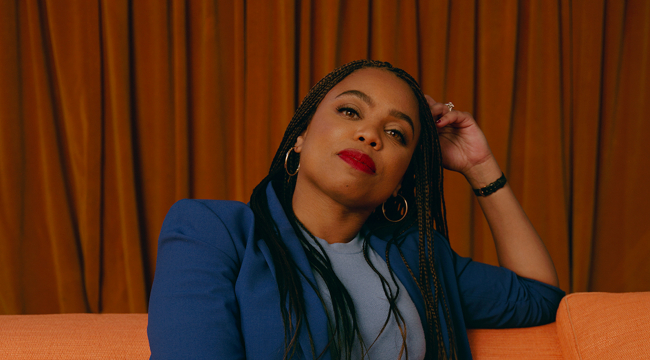 Emmy Award-winning sports journalist Jemele Hill will kick off Black History Month at Vanderbilt as the featured speaker of the university's 15th annual Murray Lecture on Wednesday, Feb. 1, at 7 p.m. in Sarratt Cinema. The event is free and open to the public.
Hill will discuss her new book, Uphill: A Memoir, in a conversation with Candice Lee, vice chancellor for athletics and university affairs and athletic director. The book explores race, gender and politics relations in sports. Hill is a contributing writer for The Atlantic and has been recognized with several notable awards, including the National Association of Black Journalist's Journalist of the Year, an Emmy for her ABC News special The President and the People, and the Van McKenzie Cup.
Each February, Vanderbilt's residential colleges host the Murray Lecture to recognize the legacy of the Rev. Walter R. Murray, one of Vanderbilt's first African American graduates and a prominent student leader on campus. During his time at Vanderbilt, Murray served as vice president of the Student Government Association and founder of the Afro-American Student Association and later became the first African American to serve on Vanderbilt University's Board of Trust.
"To honor Rev. Murray's legacy, the lecture always features a speaker whose scholarship and work centers on race and justice. The goal is to highlight the ways that we work together for justice, celebrating successes and learning about the continued work we have to do," said Melissa Gresalfi, dean of The Martha Rivers Ingram Commons.
Rosevelt Noble, assistant dean of residential colleges and director of the Bishop Joseph Johnson Black Cultural Center, served as chair of the Murray Lecture Speaker Selection Committee. Speaking on behalf of the committee, Noble noted Hill's prominence in contemporary social-political discourse.
"Jemele Hill is a special choice for the lecture given her perseverance and success as a Black female sportscaster in an industry where she undoubtedly had to overcome challenges created by her intersectional identity," Noble said. "The sharing of her life experiences and circumstances that she's had to overcome will provide an inspirational moment for the Vanderbilt community."