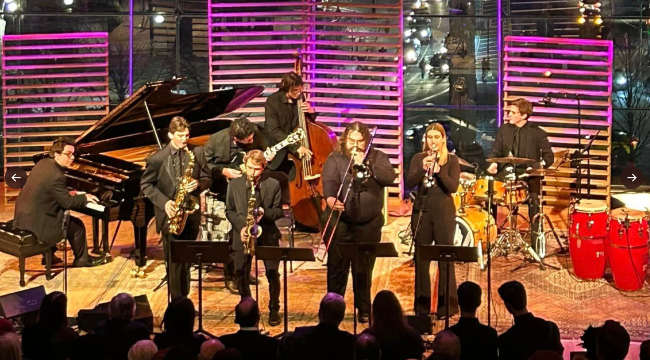 Vanderbilt University Blair School of Music's Blair Big Band placed in the top four among elite college jazz orchestras from across the nation at the third annual Jack Rudin Jazz Championship. The event was held Jan. 14 and 15 at Jazz at Lincoln Center in New York City.
Members of the Blair Big Band also were named Outstanding Trombone and Outstanding Trumpet sections, and Jonathan Salcedo was named Outstanding Trombone solo.
In addition to the high-level collegiate competition, the event also included workshops and performances.
Vanderbilt's Blair Big Band members participating in the competition included Olivia Achcet, Gabe Barnard, Liam Barron, Ian Boggs, Benjamin Black, Miles Buchmann, Seth Hahn, Patrick Kenny, Nathan King, Ian Nussdorfer, Myles Robinson, Jonathan Salcedo, Charlie Schmitt, Kevin Shinskie, Samuel Taylor, Jacob Welch and Zachary Williams. Ryan Middagh, assistant professor of jazz and director of Blair's jazz and global music program, directs the ensemble, which includes jazz majors, music majors and students who major outside of music.
Launched in 2020, the Jack Rudin Jazz Championship provides ensembles with a forum for celebrating excellence and achievement in jazz performance while introducing higher education to Jazz at Lincoln Center's education methodology and philosophy—extending JALC's educational mission into the sphere of professional development for the next generation of leading jazz artists.