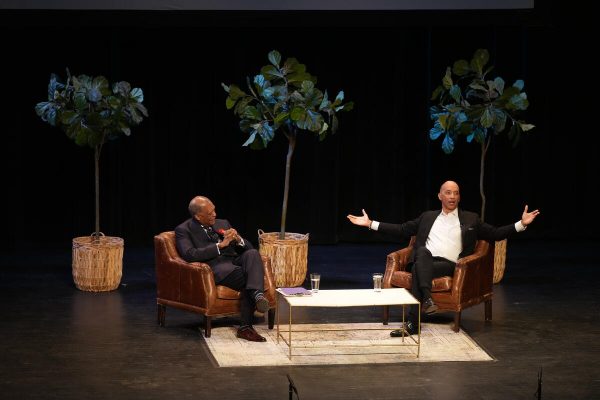 Watch a recording of the full MLK Day keynote event. (VUnetID is required.)
Byron Pitts, Emmy Award-winning journalist, author and co-host of ABC's Nightline, warned against the dangers of becoming indifferent to helping others and challenged members of the Vanderbilt community to see their potential to change the world through service.
Pitts delivered the university's 2023 Martin Luther King Jr. Commemorative Series keynote address at the Vanderbilt Blair School of Music's Ingram Hall on Jan. 16. The event was also livestreamed. This year's MLK Day theme, set by The King Center in Atlanta, was "It Starts with Me: Cultivating a Beloved Community Mindset to Transform Unjust Systems."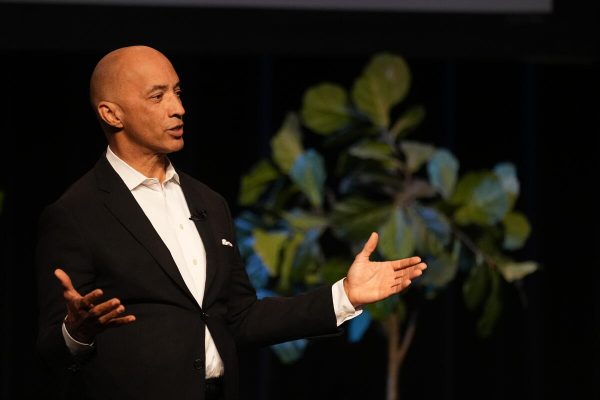 "Don't be at peace with indifference," Pitts told the Vanderbilt audience. "If blessed people with opportunity are indifferent, it's like holding a deadly weapon."
Pitts' keynote was followed by a moderated Q&A led by André L. Churchwell, vice chancellor for outreach, inclusion and belonging and chief diversity officer at the university.
Pitts told stories about his harrowing childhood in East Baltimore and struggles with learning. He did not read until he was 13 and was told he shouldn't be in school. Yet, with the help of his faith, his mother and others who chose to champion him, Pitts persevered through high school and college and followed his dream of becoming a journalist.
"I believe it's possible for every person in this room to change the world," Pitts said. "I believe this because of the life I've lived."
Pitts is the author of Step Out on Nothing: How Faith and Family Helped Me Conquer Life's Challenges, which chronicles his life from struggling with learning challenges and illiteracy to becoming a top news anchor.
He urged the audience to have a service mindset and "find that person to step out on nothing for."
MLK COMMEMORATIVE SERIES
Vanderbilt launched its annual MLK Commemorative Series in 1985 to honor King's legacy through programs, lectures, interactive teach-ins and community service.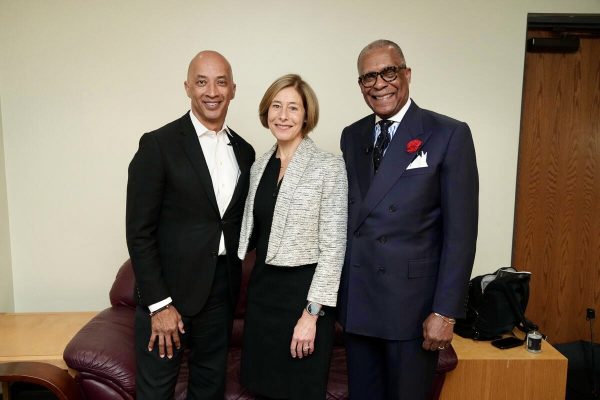 "Real discovery only happens when we recognize not only the value of our diversity, but the power of equity and belonging, and that we come together to ask for bold and far-reaching solutions," said Provost and Vice Chancellor for Academic Affairs C. Cybele Raver in her opening remarks at the keynote event. "It is a great honor to host discussions like this—and it is also a responsibility that we do not take lightly."
NASHVILLE MLK DAY MARCH AND CONVOCATION
Vanderbilt community members joined the larger Nashville community on the morning of Jan. 16 for the annual Nashville MLK Day March and Convocation. Community members marched together from Jefferson Street Missionary Baptist Church to Tennessee State University's Gentry Center, where this year's convocation speaker was Michael Eric Dyson.
JOINT DAY OF SERVICE
Vanderbilt students, faculty and staff joined hundreds of student volunteers from Nashville-area colleges and universities Jan. 14 for the annual Joint Day of Service.
On campus, Hillel hosted its annual MLK Day blood drive Jan. 16 at the Schulman Center.