Allison Schachter, associate professor of Jewish studies and English, was awarded the Fenia and Yaakov Leviant Memorial Prize in Yiddish Studies from the Modern Language Association of America.  
Schachter and Jordan Finkin, rare book librarian at Hebrew Union College, received the award for their translation of From the Jewish Provinces: Selected Stories by Fradl Shtok. The MLA gives the prize to an outstanding translation of a Yiddish literary work and to an outstanding scholarly work in English in the field of Yiddish.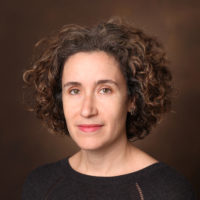 "From the Jewish Provinces, Jordan Finkin and Allison Schachter's translation of the Yiddish writer Fradl Shtok's short stories, is a slim volume bursting with luminous prose," the selection committee's citation reads. "The translators skillfully render Shtok's poetic and evocative language into English, particularly in their fluid translation of the free indirect discourse … that gives these characters their unique and modernist voices, making Shtok's long-forgotten stories available and accessible to new audiences." 
Schachter highlighted how this accessibility brings a new perspective to Yiddish prose. 
"I am thrilled to see Fradl Shtok's writing get the recognition it deserved all along," Schachter said. "She was a brilliant and vibrant writer whose haunting prose describes the lives of young Jewish men and women in the Austro-Hungarian provinces and in immigrant enclaves in New York. This translation makes her work available in English to students and scholars of modern Jewish culture and literature. It changes how we understand the modern Jewish canon, bringing a modernist woman's voice into what had been an almost exclusively male canon of translated Yiddish prose." 
Justin Cammy, a professor at Smith College, is also receiving the award for his translation of Abraham Sutzkever's From the Vilna Ghetto to Nuremberg: Memoir and Testimony. 
The prize will be presented Jan. 6, 2023, at the MLA annual convention in San Francisco. 
Schachter specializes in modern Jewish literature and culture, with interests in modernism, transnationalism, diaspora and gender studies. Her research focuses on how writers and artists responded to the historical transformations of the 19th and 20th centuries, including the rise of nationalism, the explosion of revolutionary movements and the radical transformations of gender norms. 
Schachter earned a B.A. in comparative literature from Stanford University. She was awarded a Fulbright Fellowship to pursue research on Hebrew literature at the Hebrew University of Jerusalem. She completed her Ph.D. in comparative literature at University of California, Berkeley. 
About the Modern Language Association of America
The Modern Language Association of America and its 20,000 members in 100 countries work to strengthen the study and teaching of languages and literature. Founded in 1883, the MLA provides opportunities for its members to share their scholarly findings and teaching experiences with colleagues and to discuss trends in the academy.