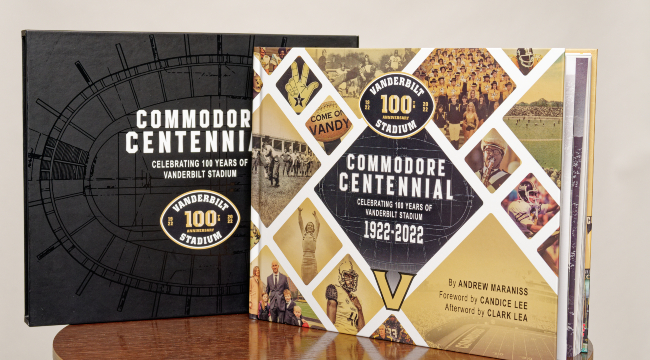 The year 2022 marks the 100th anniversary of Vanderbilt Stadium, which was originally dedicated as Dudley Field on Oct. 14, 1922. To commemorate the occasion, Vanderbilt Athletics has created a coffee table book featuring photographs and memorabilia celebrating the history of Commodore football.
Commodore Centennial: Celebrating 100 Years of Vanderbilt Stadium was written by award-winning author Andrew Maraniss and features a foreword by Vice Chancellor for Athletics and University Affairs and Athletic Director Candice Lee and an afterword by Vanderbilt football head coach Clark Lea.
The book features hundreds of vintage photographs, memorabilia and illustrations—many never before seen—that bring the stadium's story to life and with it, the story of Commodore football from its historic beginnings to the present day.