Media Inquiries
Latest Stories
Members of Vanderbilt University's undergraduate Class of 2024 have declared some 1,600 immersive experiences, showing the diverse and exciting ways Immersion Vanderbilt provides opportunities for students to get hands-on experience in the classroom and beyond. The current junior class declared their immersive experiences in the spring of their sophomore year, the first milestone in the Immersion Vanderbilt journey.
Some students will be advancing surgical technologies to improve human health, while others will be studying abroad, enhancing their foreign language skills and learning new cultural traditions. Students will examine cave stalagmites to reconstruct ancient climates, while others will choose to travel to New York City to participate in internships.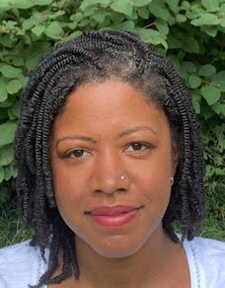 "Immersion Vanderbilt is now a degree requirement for all Vanderbilt undergraduates, and for the first time we are able to bring to light the dynamic experiential activities proposed by the students," said Amy Johnson, assistant provost for immersion and experiential learning. "This initiative showcases much of what was once invisible at our university: the impactful research, civic engagement and creative works by our students, faculty and staff.
"Our undergraduates are collaborating with the Nashville Parthenon to create educational programming for museum patrons and partnering with faculty to advance approaches to climate mitigation and health, energy and environmental equity, while other students are going into the local Nashville public schools to gain hands-on experience in developing school curricula and supporting students with special needs," Johnson said.
What is Immersion Vanderbilt?
Immersion Vanderbilt was developed as part of the Academic Strategic Plan in 2016, and after delays due to the pandemic, the Office of Experiential Learning and Immersion Vanderbilt is now fully operational and supporting all students as they develop immersion plans. This program provides undergraduates with the opportunity to pursue their passions and cultivate intellectual interests through experiential learning. This intensive learning experience takes place in and beyond the classroom and concludes with the completion of a final, culminating piece.
To complete Immersion Vanderbilt, students must fulfill two main components: an immersive experience such as study abroad, a community art project or field research, to name a few examples; and a culminating piece like a sculpture, poster presentation, op-ed or performance, among others. As students complete the two parts of immersion, they reflect upon their experiences by independently completing self-evaluation forms on the immersion portal. These reflection forms serve as milestones, tracking their progress toward completion while ensuring active learning, critical thinking and self-awareness.
Immersion Vanderbilt in Action
Senior Eric Whitmer is one example of the powerful and positive impact of immersion. While participating in the 2021 Vanderbilt Undergraduate Summer Research Program, Whitmer worked under the guidance of Robert Fry, principal senior lecturer in music history and literature at the Blair School of Music, to conduct a research project titled "The Orchestra as a Tool for Social Good."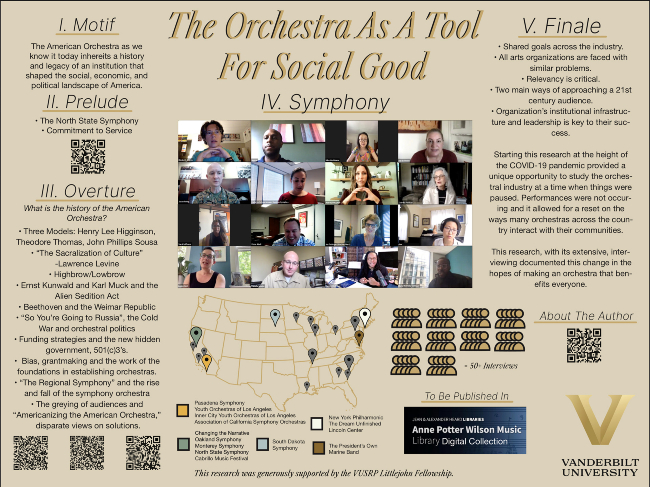 "Eric's project is a perfect example of Immersion Vanderbilt," Fry said. "While Eric's work is grounded in quantitative and qualitative research, it goes beyond a research paper to include suggestions for creating a more diverse and inclusive symphonic tradition."
Whitmer continues to develop this research with the creation of their senior thesis in musicology, a project that has helped them channel their passions into a tangible culminating piece.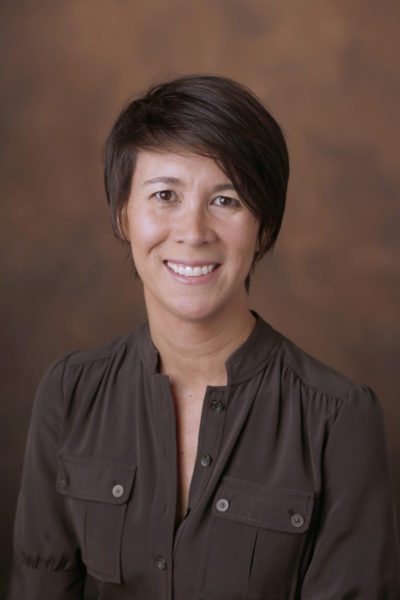 "I am motivated by empowering people to share stories and connection through music, so this research is in many ways an embodiment of that," Whitmer said. "There is so much power in talking about music in this way."
"Eric's project is one of many that shows how experiential learning is key to cultivating student curiosity and helping students develop into independent thinkers and agents for positive social change," Vice Provost for Undergraduate Education Tiffiny Tung said. "Clearly, Vanderbilt students are active participants in the construction of new knowledge, ideas and innovation."
The Office of Experiential Learning and Immersion Vanderbilt
In June 2022, Provost and Vice Chancellor for Academic Affairs C. Cybele Raver and Johnson announced the launch of the Office of Experiential Learning and Immersion Vanderbilt, and Carolyn Floyd was appointed as senior director.
In addition to celebrating the 1,600 juniors who have completed their first immersion milestone, the immersion office recognizes the record number of submissions from seniors for their Immersion Vanderbilt culminating projects. With support from more than 700 faculty advisers and EL&IV staff, the Class of 2023 will be the first class to graduate with the Immersion Vanderbilt requirement.
"This is really something to celebrate," Tung said. "There are 1,600 students in the Class of 2024 who have completed their immersive experience declaration forms, and this was accomplished by our dedicated students with the tireless support from the team in EL&IV and faculty mentors. I am in awe of the curiosity and creative drive of our students, and I'm grateful to the immersion staff and faculty who support students in achieving their ambitions."
The first part of Immersion Vanderbilt is the completion of an experience that falls within one of the following areas: undergraduate research, study away, community and civic engagement, professional development (internships), and innovation, design and creativity. To complete part one of immersion, students should devote time to their experience during one semester or the summer. Immersive experiences must be declared by the student in the immersion portal before starting the experience.
The second part of Immersion Vanderbilt—the culminating piece—typically lasts a semester, providing time for the student to complete their art project, research poster, podcast, performance or some other form of a final project. In some cases, a student may complete their immersive experience and the culminating piece within one semester or summer, but they should coordinate closely with their faculty adviser and an EL&IV staff adviser. Faculty also have applied to a new grant opportunity that provides support to professors who advise a small cohort of students on the completion of their culminating project.
For more information about Immersion Vanderbilt, please contact experiential.learning@vanderbilt.edu