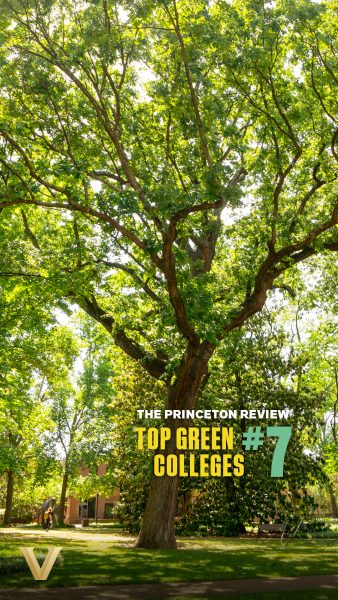 Vanderbilt University has made the "green honor roll" of the nation's most environmentally responsible colleges, according to a new ranking by The Princeton Review.
Vanderbilt ranked seventh out of 713 colleges and universities for excellent sustainability practices, use of renewable energy, recycling and conservation programs, a strong foundation in sustainability education and career guidance for green jobs, and a healthy quality of life for students on campus.
"We know that the best way to make a meaningful difference for the environment is through the things we do every day—in what we teach, in our research and in how we operate our facilities," Chancellor Daniel Diermeier said. "This ranking is a testament to the innovative discovery on the environment happening in classrooms, labs and residential colleges—and to our teams' innovative thinking when it comes to sustainably carrying out our mission."
The Princeton Review's editors analyzed more than 25 data points from their survey of colleges and universities to tally green rating scores for each of the schools on a scale of 60 to 99. Vanderbilt was one of just 31 schools that earned the highest possible score of 99 and a place on The Princeton Review's Green Honor Roll.
Colleges that earned a green rating score of 80 or higher were chosen for the Guide to Green Colleges.
SUSTAINABILITY EFFORTS AT VANDERBILT
Vanderbilt has been implementing and expanding a long-term sustainability plan through the FutureVU sustainability initiative. Major focus areas include:
The university's latest annual sustainability report for fiscal year 2022 shows that, among other achievements, Vanderbilt's greenhouse gas emissions have dropped 19 percent overall and 23 percent per square foot since fiscal year 2020.
"The latest university sustainability report shows that the Vanderbilt community is succeeding in working together to reach our sustainability goals," Vice Chancellor for Administration Eric Kopstain said. "We have more to do and commit to strong support to keep our environmental improvements going."
READ THE LATEST SUSTAINABILITY REPORT HERE. >>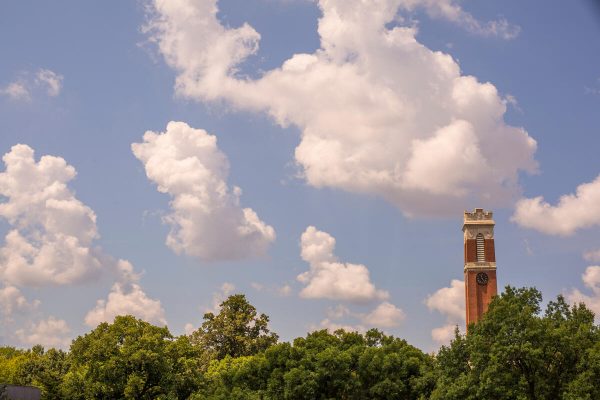 VANDERBILT GREEN FUND
The university also recently implemented five sustainability projects with support from the student-led Vanderbilt Green Fund. The fund provides $150,000 annually for select projects that help the university transition to a sustainable future.
The projects range from a native species garden to increase biodiversity, pollination and soil quality on campus to more technology-driven solutions, such as programmable thermostats and solar thermal panels.
Any student associated with Vanderbilt can propose a project for consideration. Funding for the initiative comes from Facilities within the Division of Administration.