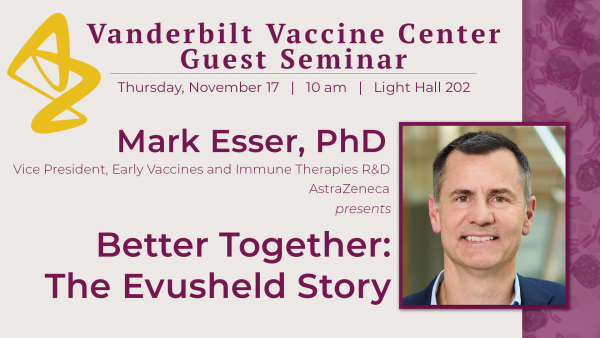 The Vanderbilt Vaccine Center is hosting a campuswide presentation by Mark Esser, AstraZeneca vice president and head of microbial sciences. Esser was a lead scientist in the global product development of Evusheld, an antibody combination to combat SARS-CoV-2 that was developed at Vanderbilt University Medical Center.  
The talk will be on Thursday, Nov. 17, at 10 a.m. in Light Hall, Room 202. The event is open to the Vanderbilt community. No advance registration is required. 
The monoclonal antibodies used in Evusheld were discovered by Dr. James E. Crowe Jr., Robert Carnahan and colleagues in the VVC. They were licensed in June 2020 to AstraZeneca for optimization and advancement into clinical trials. Known as Evusheld, the therapeutic was authorized for emergency use by the U.S. Food and Drug Administration in December 2021 as a pre-exposure prophylaxis to prevent COVID-19 in adults and children 12 years and older with compromised immune systems or a history of severe adverse reactions to a COVID-19 vaccine. 
About Mark Esser 
Using his knowledge of microbiology, immunology and drug development, Mark Esser works with scientists, physicians and engineers to discover and develop medicines to prevent and treat diseases. As vice president of microbial sciences at AstraZeneca, he oversees microbiome discovery and early infectious disease R&D programs from concept through phase 2 clinical trials.  
Esser collaborates closely with AstraZeneca staff and external partners in academia and government to address medical and scientific needs. He has participated in several drug approvals, has five patents and has authored 85 peer-reviewed articles. 
Esser started his career as a scientist in vaccine R&D at Merck after earning his Ph.D. in microbiology from the University of Virginia and completing a fellowship at the AIDS Vaccine Program at the National Institutes of Health.