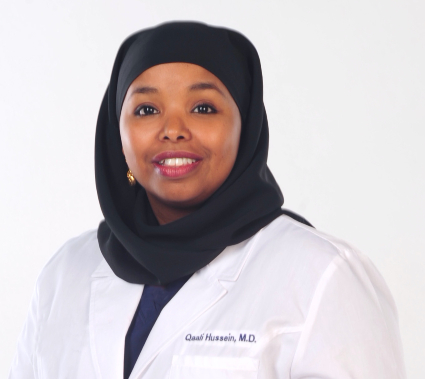 The Vanderbilt University School of Medicine Flexner Deans' Lecture Series will present Dr. Qaali Hussein on Monday, Nov. 21, at noon in Light Hall, Room 214.
Hussein, a trauma and acute care surgeon, is the founder and CEO of Defiance Academy. She will discuss "Leading in a Hostile Workplace."
RSVP by Nov. 16 to reserve a boxed lunch. >>
Hussein is a double-board certified trauma surgeon, thought leader and sought-after speaker on leadership and culture change in the workplace. Her Defiance Academy is a leadership training platform focused on leading culture change and partners with organizations to address the critical factors contributing to hostile workplaces through talks, workshops and consulting services.
In addition to her busy professional life, Hussein is the mother of six, all of whom she had during her intense training years. Her own experience living at the intersection of several marginalized identities while navigating the culture of surgery has informed her commitment to creating safe workplace environments.
Hussein is the director of acute care surgery at Acute Care Surgical Specialists and a fellow of the American College of Surgeons. She received her undergraduate degree from the University of Texas and her medical degree from the University of Texas Medical Branch. She completed her general surgery residency and critical care fellowship at Baylor College of Medicine.
Questions? Email medstudentaffairs@vanderbilt.edu.