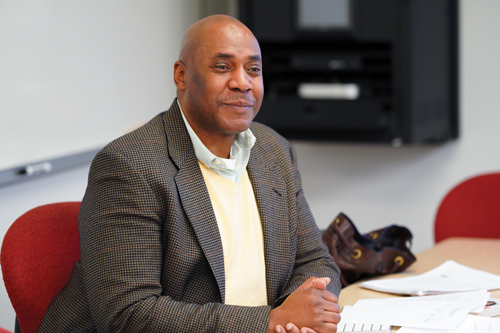 Terrance Dean, assistant professor at Denison University in Granville, Ohio, died Aug. 11 after an illness. He was 53.
Dean was a graduate of Fisk University, where he majored in communication. At Vanderbilt he earned a master of theological studies from the Divinity School and graduate degrees in religion and African American diaspora studies. His research interests included gender and sexuality, Black religion and homiletics, rhetoric and communication, the African diaspora, Black cultural studies, James Baldwin and Afrofuturism. At Denison, he founded and directed the William Payne Innovation Lab for Racial, Social, Political and Communal Sustainability. The lab, the research arm of the academic program in the Center for Black Studies, is named for 1906 Denison alumnus William Payne, cofounder of Allensworth, California, the first Black colony in California. It sponsors lectures, working groups, professional development and academic seminars and works in partnership with the California State Parks and Smithsonian Museum.
Before joining the faculty at Denison in 2019, Dean was a journalist and an executive for the MTV network. Earlier this year, he was named the inaugural Aminah Brenda Lynn Robinson Scholar-in-Residence at the Columbus Museum of Art, where he worked to rebuild, organize and archive the library of Robinson, a prolific Columbus mixed-media artist. He was a community member of The Columbus Dispatch's editorial board for more than two years and wrote numerous opinion columns that promoted racial equality and positive change. Dean solicited and curated pieces for "In Black and White," a Columbus Dispatch series of columns defining the terms and concepts key to the conversation around systemic racism. He co-hosted the accompanying In Black and White podcast with Dispatch digital producer Scot Kirk.
Dean also published articles in magazines that included Newsweek, Essence and VIBE. He was the author of several books, including his memoir Hiding in Hip-Hop: On the Down Low in the Entertainment Industry – From Music to Hollywood (Atria Books, 2008).
After Dean's death, flags at Denison were flown at half-staff for three days in his memory.
—STAFF REPORTS