Media Inquiries
Latest Stories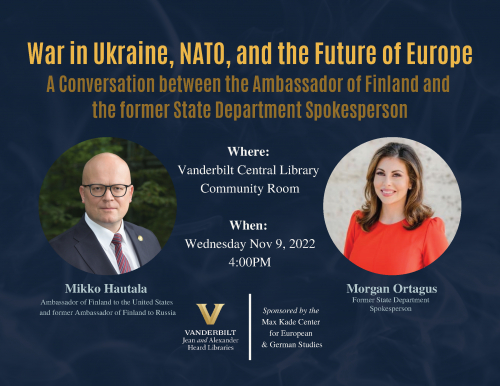 The Ambassador of the Republic of Finland to the United States H.E. Mikko Hautala and former U.S. State Department spokesperson Morgan Ortagus will discuss "War in Ukraine, NATO and the Future of Europe" at Vanderbilt University on Wednesday, Nov. 9. The conversation will be from 4 to 5:30 p.m. in the Vanderbilt Central Library fourth-floor Community Room. The event is open to the public.
As the university focuses on expanding its global presence through research, dialogue and relationship-building ahead of its Sesquicentennial celebration in 2023 and beyond, the Nov. 9 event is an opportunity for the Vanderbilt community to hear firsthand from experts on issues currently impacting our world. Hautala and Ortagus will discuss themes of international politics, the war in Ukraine, the Finnish-Russian border and European security integration. The event will include a question-and-answer session with the speakers.
A career diplomat, Hautala was appointed ambassador of Finland to the United States in September 2020. From 2016 to 2020, he served as ambassador of Finland to Russia. In August 2020 Hautala was awarded the Ambassador Prize by the Confederation of Finnish Industries for his work promoting the interests of Finnish companies in Russia. During his career, he has received several civil and military decorations both nationally and internationally.
Ortagus served as spokesperson for the U.S. Department of State from 2019 to 2021. She previously held government positions as a deputy attaché and intelligence analyst at the U.S. Department of the Treasury and as a public affairs officer at the United States Agency for International Development. Ortagus was a national security contributor at Fox News prior to her appointment as State Department spokesperson. She is an officer in the United States Navy Reserve.
The event is being sponsored by the Jean and Alexander Heard Libraries and the Max Kade Center for European and German Studies at Vanderbilt.