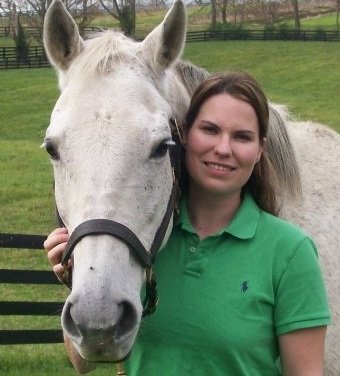 When Jennifer Janes arrived at Vanderbilt Blair School of Music in 1998, she had two career paths in mind—veterinary medicine and teaching piano at the college level. Her abiding interest in horses and veterinary medicine—first sparked during her childhood in Peoria, Illinois—eventually won out.  
Today, Dr. Janes is an associate professor of veterinary anatomic pathology at the University of Kentucky Veterinary Diagnostic Laboratory. Though that seems far afield from studying piano, Janes says it's a role that Blair prepared her exceptionally well for.  
"Pursuing music education, with the long hours and focus required, translated well to the rigors of veterinary school," says Janes, whose career now focuses on diagnostic veterinary pathology and research of equine neurologic and musculoskeletal disease.  
Among her favorite courses at Blair was Piano Pedagogy taught by Karen Ann Krieger, associate professor of piano and piano pedagogy. With Krieger's support and mentorship, Janes began teaching piano to local children and teenagers in a small studio at Vanderbilt. 
She also helped Janes pursue her other career interest. "A huge animal lover … she helped me get a position at a local veterinary clinic one summer," Janes says. "I ended up working at that clinic throughout undergrad and veterinary school." 
Upon graduating from Vanderbilt in 2002, Janes faced a choice between her two passions: a spot in Southern Methodist University's graduate program in music or an opportunity at the University of Tennessee College of Veterinary Medicine. She chose veterinary school, and it didn't take long for her to find a new mentor—a professor who "made pathology fun," she says. 
After graduating from veterinary school in 2006, Janes spent a year in a rotating internship at Wisconsin Equine Clinic and Hospital near Milwaukee. She worked in neonatology, surgery, farm visits, reproduction and other areas of equine medicine, but her interest in pathology—the study of the causes and effects of disease or injury—continued to develop. 
From 2007 to 2014, Janes completed a residency in veterinary anatomic pathology while earning a Ph.D. focused on equine Wobbler Syndrome at the University of Kentucky Gluck Equine Research Center. This program allowed her to combine her interests in pathology and equine diseases. She then joined the faculty at the University of Kentucky Veterinary Diagnostic Laboratory in the Department of Veterinary Science in 2015. As a veterinary pathologist, she performs biopsies and conducts postmortem examinations to determine the cause of illness in a variety of animals. She also teaches fourth-year veterinary students and does collaborative research predominantly focused on equine neurologic disease. 
Janes says she is incredibly grateful to have had the support and ability to pursue both interests during her time at Blair studying with Krieger.  "Her impact on my life both inside and outside of the piano studio continues to be immense," she says. "I use the lessons I learned from her on a regular basis. When I play piano now, I can still hear her feedback in my mind, and that is a good thing." 
—Margaret Buranen