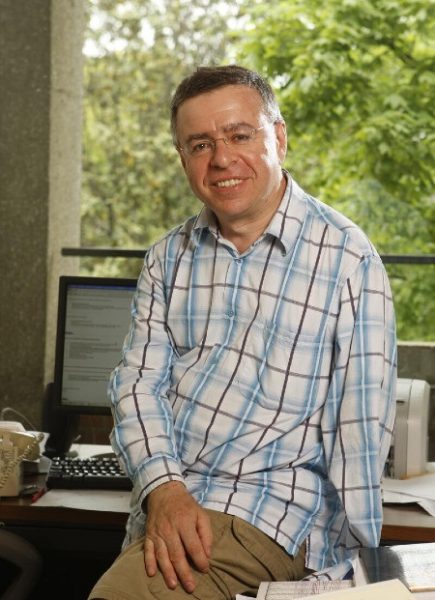 Mark V. Sapir, Centennial Professor of Mathematics, died in Nashville on Oct. 8. He was 65 years old.
Sapir, who made significant research contributions in the areas of geometric group theory, semigroup theory and combinatorial algebra, was born in Russia on Feb. 12, 1957.
He received his undergraduate degree in mathematics from Ural State University in 1978. He then earned his doctorate from Ural State University, where he studied with famed scientist and mathematician Lev N. Shevrin. Sapir taught at the University of Nebraska–Lincoln before joining Vanderbilt as a tenured professor in 1997. He was named Centennial Professor of Mathematics in 2001.
"Mark Sapir's demise is a great loss for his colleagues and friends, for algebra and, in particular, for theories of groups and semigroups," said Alexander Olshanskiy, Centennial Professor of Mathematics and a longtime colleague and friend. They co-wrote and published 19 research papers. "Mark was a mathematician to the very core and was ready to speak about any problems, from the newest and most complex challenges to high school olympiad ones."
Sapir previously co-directed the Vanderbilt-led Nashville Math Club, which helps middle- and high-school students learn complex mathematical concepts in fun and playful ways.
He also founded the Journal of Combinatorial Algebra, published by the European Mathematical Society, and served as its first editor-in-chief. Sapir was named to the inaugural class of Fellows of the American Mathematical Society in 2012.
"Mark was an insightful and very intense researcher, but he also had a great sense of humor," said Jean-Camille Birget, a computer science professor at Rutgers University–Camden. "I had the good fortune to work with Mark on some research that led to his invention of the S-machine, which is a crucial bridging tool between nondeterministic Turing machines and finite presentations of groups."
A special mathematical conference in honor of Sapir's 60th birthday took place at the University of Illinois at Urbana–Champaign in May 2017.
Mike Mihalik, professor of mathematics, said that Sapir was easily one of the most influential scholars in his own career. He noted that Sapir was passionate about spending time outdoors. "I will never forget our hikes and shared experience of duck and goose hunting during a brutally cold but spectacular day on the water. I miss him dearly, and I'm sure I will always remember his friendship when I'm on the lake without him," Mihalik said.
Surviving family members include Mark's wife, Olga Sapir, a former Vanderbilt mathematician; their three children, Jenya, Yasha and Rachel; and his sister, Marina Sapir.