Media Inquiries
Latest Stories
Vanderbilt University is encouraging all interested students to apply for the Clinton Global Initiative University's 2023 cohort. CGI U is a unique opportunity to connect aspiring student leaders with leading experts in business, technology and social impact. Each year, thousands of undergraduate, professional and graduate students from around the globe apply to participate in CGI U's year-round community of learning, leadership and action.
Hosted by President Bill Clinton and Chelsea Clinton, the global meeting will be held at Vanderbilt on March 3–5, 2023, convening participants, topic experts and high-profile innovators to support and learn from each other. The program is open to anyone pursuing a bachelor's, master's or doctoral degree at the time of application, and student teams of three or fewer are also eligible. The deadline to apply has been extended to Jan. 4, 2023.
With the 2023 student cohort, CGI U marks 15 years of guiding students to address some of the most pressing challenges we face today. Since its inception, the program has brought together more than 11,000 students from more than 160 countries and 137 institutions of higher education, who have been awarded $4 million in funding through the CGI University Network.
As part of the application process, students submit a Commitment to Action—a measurable plan to address a specific problem in their local communities or around the world. The commitment should focus on at least one of the following areas: education, environment and climate change, peace and human rights, poverty alleviation, and public health.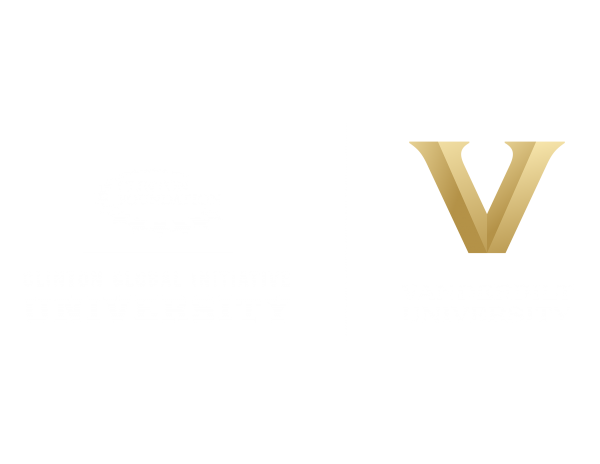 Once accepted to the program, students will begin developing their ideas into action at the annual CGI U meeting at Vanderbilt. The event, which convenes hundreds of student members, topic experts, CGI U alumni and mentors, will feature panel discussions, networking sessions, pitch competitions and community service projects.
In addition to providing students with personalized mentoring and access to funding streams, CGI U's programming includes a 10-month social impact curriculum focused on the development of early-stage ideas into scalable projects. The curriculum—organized into three modules of connection and collaboration, practical skills and enhancements, and sustaining momentum—is designed to help students grow and transform their commitments in the months beyond the annual meeting.
Previous Vanderbilt student projects accepted into CGI U have included a variety of innovative projects—polystyrene recycling on campus, improved public health in Palestinian refugee camps through immunization alerts, a musical production at a children's hospital, and greener campus dining through eco-friendly flatware and other efforts to increase sustainability at campus eateries.
In 2013, Maryli Cheng, Whitley O'Connor, Shilpa Mokshagundam and Depeng Jin committed to design and implement a method to reduce the amount of polystyrene in landfills, thereby lessening the plastic's harmful effects on the environment. The material, obtained primarily from the university mailroom, was packed into teddy bears as a substitute for cotton.
Jordan Schermerhorn, Cherie Fathy and Batoul Abuharb began working in 2014 to expand SMS-based immunization appointment alerts to improve public health in Palestinian refugee camps in Amman, Jordan. Their goal was to ensure that refugees were immunized to decrease the spread of disease within refugee camps.
In 2015, Jelena Belenzada committed to produce a musical for a local children's hospital to humanize health care professionals and promote self-confidence and self-worth among patients. She collaborated with the Nashville community, university students and hospital employees to write and produce the musical, which was performed for their patient population.
Yalun Feng committed in 2017 to greener campus dining, such as the option for eco-friendly flatware at the university's cafes. He partnered with Vanderbilt Student Government and the Office of Sustainability and Environmental Management to reduce the use of plastic plates, bowls and utensils at Vanderbilt dining locations.
The CGI U program, including the annual meeting, is free for accepted students. Students with questions about the application process can email cgiu@clintonglobalinitiative.org or register for an applicant information session.