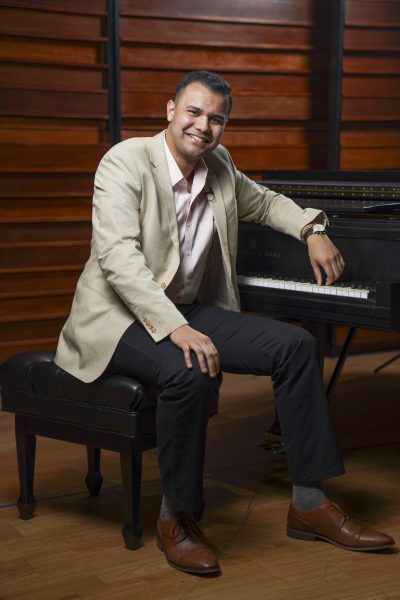 by Amy Wolf
Anighya Crocker, BMus'21, came to Vanderbilt as a multiracial, first-generation college student with big dreams to serve the community through public office and music. His Vanderbilt experience as a double major in Law, History and Society and music performance has helped him to hone both of those dreams.
Crocker is now working toward a law degree at Duke University and is an inaugural diversity fellow for a large Nashville-based law firm. He is also an assistant organist in the Duke Chapel and a soloist with the Durham Bach Ensemble and other groups.
Crocker believes his current endeavors, combined with his Vanderbilt education and life experiences growing up in rural Tennessee, will help him in law and public service.
"What truly drives me is listening and thinking about solutions to problems that people are having. That's why I want to be a lawyer," Crocker said. "I approach solving legal problems in the very pragmatic, blue-collar way my mom and dad would, using skills like working within a team, attention to detail, being reliable for people, being trustworthy."
Crocker's dream to serve Tennessee as its governor continues to strengthen. He believes the work he's doing to help people navigate the legal system is expanding that vision.
HOW HAS YOUR VANDERBILT EXPERIENCE HELPED YOU TODAY?
"I think the most important realization of my undergraduate experience is that I learned how to learn. I learned how to do research. I learned how to think critically about questions. I learned how to work with other people. Being able to work with other people, think critically about problems and form a rational, logical solution—or at least move forward in the pursuit of a solution—are skills I use every single day."
HOW WERE YOU SUPPORTED AT VANDERBILT?
"There are so many professors at Blair and in Arts and Science who inspired and helped me—and who I still stay connected with when I need advice. One of my greatest mentors still today was my faculty head of house in Warren College, Dr. Sean Seymore. I never had a single class with him, yet he's become like an extended family member to me because of all the advice he's given me."
WHAT ADVICE WOULD YOU GIVE TO YOUR TEENAGE SELF?
"I would tell my 17-year-old self to ask for help more. I think that was something I've had to learn over time—and it may be unique to Vanderbilt—but professors truly want to help. So, just ask them questions and let people know that you're genuinely interested.
"Also, find a place off campus to relax. Nashville is incredible, and I think some of those times off campus with a small group of friends were essential to my mental health."
WHAT MADE YOU CHOOSE VANDERBILT?
"This is going to sound very cliché, but I felt like Vanderbilt believed in me. I mean, there was no way I could afford college. I just couldn't. And I busted my tail to earn a lot of scholarships. But at the end of the day, you know, I just couldn't afford college. And when I got my Opportunity Vanderbilt statement, I remember thinking they wouldn't invest in somebody like me if they didn't believe in them. I wanted to go to a place that believed in me."