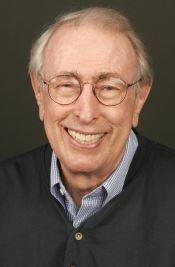 Erwin Charles Hargrove Jr., professor of political science, emeritus, and a former director of the Vanderbilt Institute for Public Policy Studies, died Oct. 11 in Nashville. He was 92.
Hargrove was born in St. Joseph, Missouri, and educated in the public schools there, then graduated from Yale University in 1953. He served in the U.S. Army in Germany and later worked as a reporter for The Baltimore Sun before returning to Yale, where he received a doctorate in political science. From 1960 to 1976, he taught at Brown University, where he served as chair of the political science department. While a member of the Brown faculty, he also served as a senior fellow at the Urban Institute in Washington, D.C., from 1973 to 1976.
He joined the Vanderbilt University faculty in 1976 as a professor of political science and director of the Vanderbilt Institute for Public Policy Studies, a position he held until 1985. He later served as chair of the Department of Political Science. He also directed the Vanderbilt study abroad program in England in 1996–97.
Hargrove was a scholar of the American presidency, writing several books on presidential leadership. He won the Richard E. Neustadt Prize, awarded by the American Presidency Group of the American Political Science Association, for the best book on the presidency in 1988, Jimmy Carter as President: Leadership and the Politics of the Public Good.
"Erwin was one of the most important scholars of the presidency of his generation," said David Lewis, University Distinguished Professor of Political Science. "He was an award-winning teacher, one of those exceptional scholars that can be a world-renowned researcher and equally gifted instructor. When I came to Vanderbilt as a young presidency scholar, Erwin sought me out and shared his insights and friendship with me. It was a real honor for me."
Other books written by Hargrove include The Effective Presidency; The President as Leader: Appealing to the Better Angels of Our Nature; Presidential Leadership: Personality and Political Style; Power of the Modern Presidency; The Future of the Democratic Left in Industrial Democracies (edited); and Prisoners of Myth: The Leadership of the Tennessee Valley Authority, 1933–90.
In 1985 Hargrove was named Alexander Heard Distinguished Service Professor at Vanderbilt, an honor bestowed on faculty members for distinctive contributions to the understanding of problems of contemporary society. In 1988 he received the Jeffrey Nordhaus Award for excellence in teaching in the College of Arts and Science. In 1990 he received the Madison Sarratt Prize for Excellence in Undergraduate Teaching as well as the Ernest O. Jones Faculty Adviser Award, an honor given to Arts and Science faculty members for dedication to undergraduate advising in math or the natural sciences. In 1994 he received the Alumni Education Award, given each year to a Vanderbilt faculty member who has contributed substantially to developing or participating in programs that further the education of Vanderbilt alumni.
Hargrove is remembered as having an unquenchable intellectual curiosity, reading numerous books on politics, history and a wide range of other subjects until shortly before his death. He also was an avid writer who sought to expand his boundaries as an author even after his retirement from Vanderbilt by writing several works of fiction.
"Erwin recruited me to Vanderbilt, and for that I will always be grateful," said William James Booth, professor of political science, emeritus. "He was a person of rare learning, broad and deep, and filled with the joys of good ideas, theories and arguments. Erwin was as at home reading a biography of Lincoln or FDR as he was critically engaging the latest scholarly study of the presidency."
Hargrove is preceded in death by his parents, Erwin Charles Hargrove and Gladys France, and his wife, Julia Mosher. He is survived by his former wife and mother of his three children, Lynne Douglas Hargrove, and his children, John Page Hargrove, Amy Hargrove Cate (George) and Sarah Douglas Hargrove, all of Nashville; granddaughter Blythe Douglas Cate of Nashville; granddaughter Catherine Hargrove Taylor (Brooks) of Greenville, South Carolina; and great-grandson Henry Holbrook Taylor of Greenville, South Carolina.
A celebration of his life will be held at a future date. Memorial contributions may be made to Christ Church Cathedral in Nashville, where he was a member, or the charity of one's choice.