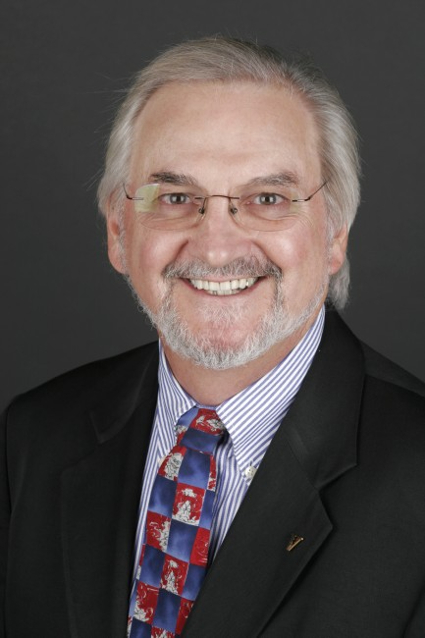 John A. McCarthy, an accomplished scholar of German and European studies and the first director of the Max Kade Center for European and German Studies, died Aug. 20 in Portland, Oregon. He was 80. A professor of German, emeritus, McCarthy is remembered by his colleagues as an engaged faculty member with an energetic presence on campus.
McCarthy was born in St. Claire, Michigan, in 1942. He stumbled into studying German after being assigned to the language when he entered the Holy Cross Fathers Minor Seminary at Notre Dame, Indiana, at age 13. After nearly five years of a teenage monastic life, he left before taking first vows and went on to study German, English and philosophy at the newly founded Michigan State University at Oakland (now Oakland University). He received his undergraduate degree in 1964 and worked the night shift at the famous Chrysler Stamping Plant on Detroit's Eight Mile Road for four months, saving what he earned to finance a year abroad. With a one-way ticket on Icelandic Airways, he traveled to Luxembourg and then took a bus to Paris. Eventually, he arrived in Munich and fell in love with the city. It was there that he met his future wife, Mecki (Mechthild), and perfected his German—a skill that remained so remarkable throughout his life that native-speaking scholars took note of it.
In 1972, he earned a doctorate in German language and literature at the State University of New York in Buffalo and began teaching at the University of Pennsylvania, where he continued for 19 years, eventually becoming full professor. He joined Vanderbilt in 1991 and immediately threw himself into the work of making the German doctoral program one of the best in the country. He also was the driving force behind the founding of the Max Kade Center for European and German Studies and did much of the work that resulted in the generous grant on which the center mainly rests.
McCarthy was a leading international expert on the German and European Enlightenment, and he made this expertise into the foundation for a distinguished, prolific and wide-ranging scholarly career. The author of five books and nearly 100 essays, McCarthy also edited eight volumes and organized three highly successful conferences. In addition to his two early books on the German Enlightenment philosopher Christoph Martin Wieland, McCarthy wrote Crossing Boundaries: A History and Theory of Essay Writing in Germany, 1680–1815, which won the 1990 DAAD/GSA Biannual Best Book Prize; Remapping Reality: Chaos and Creativity in Science and Literature; and Confronting/Defining the Self: Formation and Dissolution of the 'I' from Montaigne to Grass, which will appear posthumously. In 1994, he organized a conference on the future of the study of German literature in the United States, which became a book and the starting point for subsequent discussions about the state of the field.
McCarthy also was a dedicated and beloved teacher. He taught a wide range of courses, including a first-year writing seminar, advanced German-language courses, upper-division literature courses and advanced graduate seminars. He served several terms as director of graduate studies in German and received the College of Arts and Science Graduate Mentor Award.
Students and colleagues fondly recall the many evenings at his house, where he and Mecki graciously welcomed faculty, students and visiting scholars to discuss the intricacies of the field of German literature and German studies.
He was also a dedicated citizen of his university and of his field. He served on the University Research Council, the University Grievance Committee, the Graduate Faculty Council and the Faculty Senate, which he chaired from 2004–05. He was a president of the Lessing Society and a dedicated member of the German Studies Association, on whose executive board he served. He also worked with the American Association for Teachers of German, which, along with the Goethe Institute, awarded him its Certificate of Merit as an outstanding educator.
McCarthy is survived by his wife, Mecki, his son, Brian, and his daughters Monika Birdwell and Kristin Culpepper and their families.