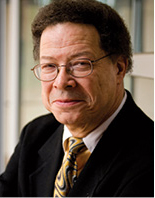 The 21st annual Levi Watkins, Jr. M.D. Lecture will be on Tuesday, Oct. 18, at noon in Light Hall, Room 202.
The recipients of this year's Levi Watkins, Jr. M.D. Awards will serve as speakers for the event. Each recipient will discuss how they have contributed to inclusive excellence within the Vanderbilt University Medical Center community.
The 2022 Levi Watkins, Jr. M.D. Award winners are:
Marques Bradshaw, associate professor of clinical radiology and radiological sciences and vice chair of diversity affairs, Vanderbilt University Department of Radiology
The founders of the House Staff Diversity and Inclusion Alliance
The committee responsible for the naming of Vivien Thomas Way
Register for the in-person event (lunch provided) >>
Access the event livestream on Oct. 18 >>
The event is sponsored by the VUMC/VUSM Office for Diversity Affairs.
About Levi Watkins, Jr.
Levi Watkins Jr., MD'70, made significant contributions toward increasing opportunities for underrepresented minorities in the sciences. A distinguished physician and researcher, Watkins became the first African American student to be admitted to VUSM in 1966. He graduated in 1970 and was selected as a member of the Alpha Omega Alpha Medical Honor Society. He continued his training at Johns Hopkins and Harvard universities. Watkins embodied the attributes important to serving as a renowned role model for those who pursue careers in medicine and the biomedical sciences.