Media Inquiries
Latest Stories
October is LGBTQI History Month, recognized nationally and at Vanderbilt as a time of reflection, celebration and education. In recognition of the month, the Office of Lesbian, Gay, Bisexual, Transgender, Queer and Intersex Life, in collaboration with campus and community partners, has developed a calendar of events with a focus on digital advocacy and activism, including educational programs, community events, film screenings, panels, workshops and trainings. Check out the website to learn more about these and other events around Nashville, some of which are highlighted below.  
LGBTQI History Month Kickoff Oct. 3 
A sidewalk chalk mural, collectible button giveaway and voter registration drive will kick off LGBTQI History Month on Oct. 3. The event will include a nonpartisan push to register students to vote in November elections. The Vanderbilt community is invited to stick around to hear from Michigan state Sen. Mallory McMorrow later in the day. In collaboration with the Carpenter Program, Religious Studies department, LGBTQ Policy Lab, Gender and Sexuality Studies department, Vanderbilt Divinity School, George Barrett Social Justice Program and Office of LGBTQI Life, McMorrow will discuss LGBTQI rights, reproductive freedom and social justice. 
Dating Apps and Digital Consent Oct. 4 
Join Project Safe, the Margaret Cuninggim Women Center's Vandy Sex Ed, Center for Student Wellbeing and Office of LGBTQI Life for a panel and discussion about "Dating Apps and Digital Consent: A Conversation About Safety and Sex Online" with a focus on LGBTQI topics and campus resources. Gourmet cookies and a range of sexual health supplies will be provided.  
Wiki-edit-a-thon Kickoff Oct. 6, Wrap-up Oct. 27 
With the help of experts and librarians, students, faculty and staff are invited to learn about democratizing online sites of knowledge, such as Wikipedia, by contributing content related to LGBTQI+ histories. Student teams, online and in person at Peabody College and the K.C. Potter Center, will have access to historical and informational materials from the K.C. Potter Center and the libraries to update or create Wikipedia pages. The Wiki-edit-a-thon Wrap-up event will take place Oct 27. 
Alumni Reunion Oct. 7 
With reunions resuming in person this year, Vanderbilt is celebrating its LGBTQI alumni by featuring photos, videos and biographies of them at an open house from 4 p.m. to 5 p.m. as part of a larger project to document LGBTQI history at the university. Alumni can send in submissions here.  
National Coming Out Day Oct. 11 
VU community members are invited to join the Office of LGBTQI Life on Oct. 11 for National Coming Out Day, which is celebrating its 34th anniversary nationally this year. The event will be on Library Lawn from 12:30 p.m. to 4 p.m., with a keynote address from online activist Olivia Julianna as well as an activist chat and Q&A with Julianna from 12:30 p.m. to 1 p.m., followed by a workshop with student leaders from 1 p.m. to 1:30 p.m. in the Multicultural Student Lounge.  Julianna is a queer, disabled, Latinx teenager from Texas and a political strategist for Gen Z For Change. She organizes her social media followers to effect change, such as raising $2.2 million for abortion rights groups in response to the recent decision to overturn Roe v. Wade. There will be a professional photographer, a puppy petting party, swag giveaways and queer-owned vendors. All are encouraged to support our community partners Oasis and Launch Pad by signing up to volunteer and donating to clothing and pantry drives during National Coming Out Day. 
>> Submit questions for Julianna here. 
Community Digitization Day Oct. 15 
In collaboration with Nashville Sites, Nashville Queer History and Vanderbilt's Center for Digital Humanities, Digital Commons and LGBTQI Life, the greater Nashville community is celebrating its first Community Digitization Day. From 10 a.m. to 4 p.m. at the Digital Humanities Center, all are invited to stop by to learn more about the project, take a look at the digital archive, scan your own items into the archive, or schedule an oral history sharing of your own story about Nashville's LGBTQ history. Participants wanting to get material scanned should fill out this form before Oct. 15. 
Documentary Film Screening Oct. 19 
Celebrating Asian Pacific Islander Desi American Heritage Month, the K.C. Potter Center, Office of Intercultural Education and Outreach, and the Global Education Office will host filmmaker James Beni Wilson and screen the documentary Binatay: Journey of a Filipino Adoptee for the Vanderbilt community to kick off the Queer Intersections series. This discussion will explore the experience of being queer and an Asian transnational adoptee. 
Spoken Word Oct. 24 
The Bishop Joseph Johnson Black Cultural Center will co-host a spoken word event focused on the theme of resiliency and emceed by BCC Assistant Director ReChard Peel. Students are invited to interpret and perform the theme however they wish, and creative outlets beyond poetry are also welcome. Students can indicate their interest in participating in this event here. 
'Dores in Dialogue: A Conversation on the Economic Cost of Injustice Oct. 25
Presented by the Vanderbilt Alumni Association in partnership with the LGBTQIA+ Association of Vanderbilt Alumni (LAVA), this installment of 'Dores in Dialogue explores how injustice impacts the overall economy as well as individuals within the LGBTQIA+ community. The conversation will start with the micro level, focusing on how individual decisions have an impact. It will then move to the macro level, reviewing how discrimination can affect the overall success of a company. The conversation will conclude with actionable next steps participants can take to make an impact. The online event begins at 1 p.m. via Zoom.
Digital Storytelling Through Games Oct. 25 
SUNY Buffalo's Amatryx Lab will premier its video game Trans Folks Walking, which centers the narratives and experiences of members of the trans community through gameplay. Faculty, staff and students will get a chance to play the game and learn more at this all-day event. Students are invited to a discussion about Digital Storytelling from 10 a.m. to 11 a.m. and the session on Game Design from 3 p.m. to 4 p.m., while faculty are invited to the Gamifying Pedagogy session from noon to 1 p.m.  
Intersex Awareness Day Panel Oct. 26 
Experts and members of the intersex community will discuss the experiences of being intersex and how to challenge harmful medical and legal practices and narratives, as well as access resources for support across faith communities. 
Wellness Week Wrap-up Yoga and Massage Oct. 28 
To acknowledge the importance of self-care during advocacy and activism, the Office of LGBTQI Life is partnering with the Center for Student Wellbeing and other campus partners to host a wellness event that will include yoga, massages and mindfulness activities. 
Costume Social and Trick-or-Treating Oct. 31 
LGBTQI students are invited to join a costume social on Halloween to meet other queer and trans students, enjoy refreshments, trick-or-treat along West Side Row and compete for the best costume prize. Those unable to attend in person are welcome to join our Discord, an online platform for connecting with friends. 
Special Zoom backgrounds for LGBTQI History Month
The Office of LGBTQI Life has created three Zoom backgrounds for VU community members to use during October. Throughout the month, the office will highlight LGBTQI students, faculty and staff who have made positive contributions to the VU community, as well as provide donation links and other ways to engage in digital activism. The Vanderbilt community can find more information about the month's celebration through the office's social media (Twitter and Instagram), and by following the hashtags promoting community building, social engagement, well-being and civic action.  
>> Download Zoom backgrounds here.
Advocacy work for LGBTQI History Month
Members of the VU community will have a chance to engage in advocacy work that positively contributes to Nashville's LGBTQIA+ communities by visiting the Advocacy section at this year's National Coming Out Day Celebration on Library Lawn Oct. 11. If student organizations and VU members would like to make a difference now, some options include:  
 Volunteering 
Donations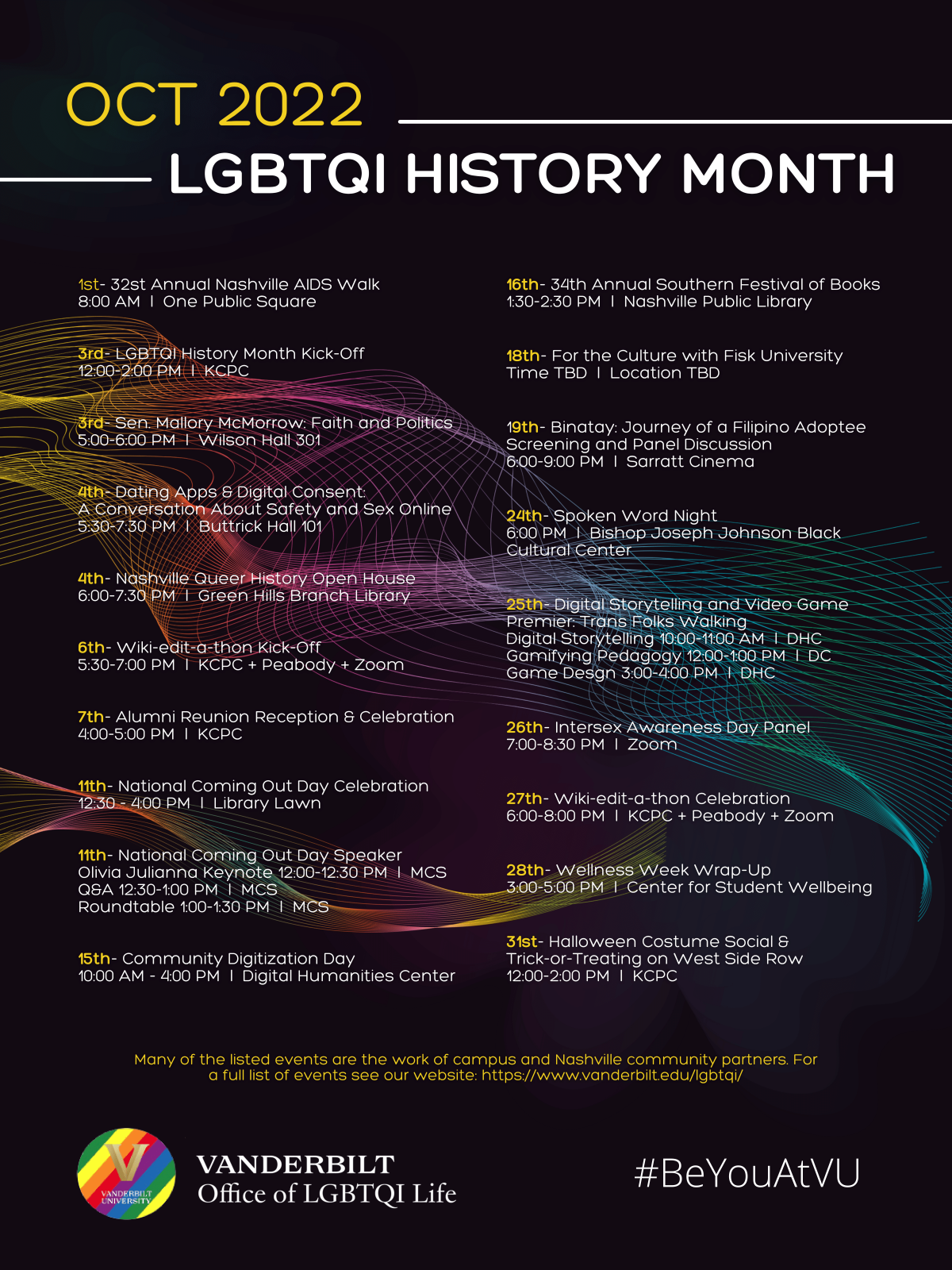 Connect through Glammadore events in October
The Glammadores are Vanderbilt's LGBTQI+ affinity group for faculty and staff. Please note that the below events are RSVP only, and interested parties should reach out to Linzie Treadway (linzie.treadway@vanderbilt.edu) or Derek Nido (derek.j.nido@vanderbilt.edu) for more information. 
Supporting Our Friends at LaunchPad and Oasis 
Saturday, Oct. 8, 2–4 p.m. 
Once a month, the Glammadores provide meals at Nashville LaunchPad, a resource for LGBTQI+ youth experiencing homelessness. In October, they will also support the Oasis Center by packing nonperishable food care packages.   
Virtual Coffee Hour 
Monday, Oct. 10, at 10 a.m. via Zoom   
Hiking Meetup at Percy Warner Park 
Sunday, Oct. 16, at 1 p.m. 
Happy Hour 
Thursday, Oct. 20, at 5:30 p.m.  
LaunchPad's Biscuits for Beds Breakfast 
Saturday, Oct. 22, 9–11 a.m. 
The Glammadores will attend Nashville LaunchPad's Biscuits for Beds fundraising event aimed at celebrating their work and supporting the reopening of LaunchPad's community-based winter shelter for LGBTQI+ youth experiencing homelessness.