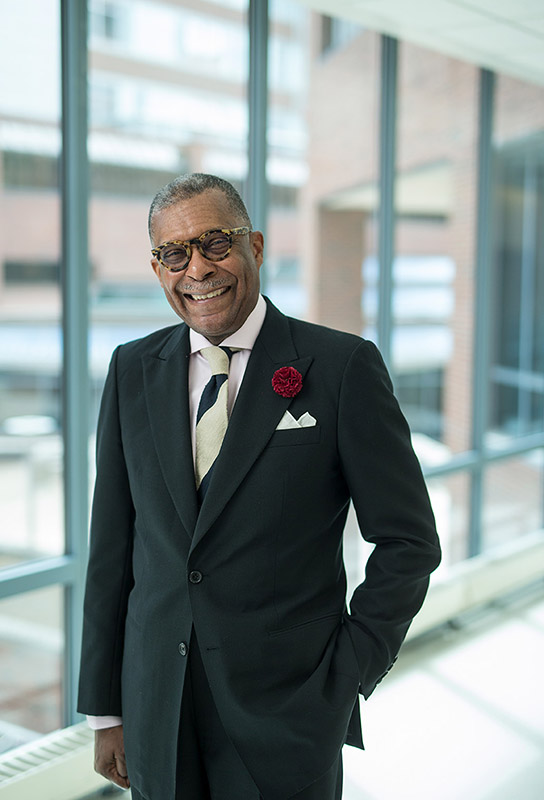 Chancellor Daniel Diermeier has expanded Vice Chancellor Dr. André L. Churchwell's role to include institutional belonging and community outreach. To reflect this expanded role, Churchwell's title will now be vice chancellor for outreach, inclusion and belonging and chief diversity officer at Vanderbilt University.
With this transition, Churchwell's position emphasizes the importance promoting a sense of belonging among all students, faculty, staff and postdoctoral scholars with the goal of advancing human potential and growth. Churchwell also will engage with members of the Nashville community on matters of diversity, equity and inclusion in collaboration with the Division of Government and Community Relations led by Vice Chancellor J. Nathan Green. 
"Dr. Churchwell is invaluable in fostering equity, diversity and inclusion at all levels of the Vanderbilt community," Diermeier said. "I look forward to working together to further enhance the distinctive culture of belonging at Vanderbilt, which is fundamental to our academic mission to empower future leaders and create positive impact in the world."  
 In his expanded role, Churchwell will focus on further advancing the mission and goals of the university and the Office of Equity, Diversity and Inclusion. This work includes partnering with the chancellor and vice chancellors on institutional initiatives, championing Vanderbilt's diverse community and executing a strategic plan around belonging to better serve students, faculty, staff and postdocs. 
Building on his experience serving as Vanderbilt University Medical Center's first chief diversity officer, Churchwell has spearheaded various institutional initiatives and advancements for the university community, including: 
Collaborating with diverse campus partners and community members to provide programs and events aimed at increasing dialogue throughout our community

Developing and implementing a framework for employee affinity groups across campus in collaboration with the Human Resources division

Increasing efforts to streamline communication of EDI efforts across campus by working with Vanderbilt University Communications and Marketing

Compiling a comprehensive timeline of EDI milestones throughout the life of the university in an effort to present our history with honesty and transparency

Releasing the Gender Affirmation Toolkit in collaboration with HR and the Office for LGBTQI Life for managers to support transgender and nonbinary staff, including through transitions

Facilitating conversations between university leaders and key figures in the Nashville community in collaboration with the Division of Government and Community Relations
"I am honored to continue making Vanderbilt University a place where all people can come and feel at home," Churchwell said. "It is important to our future as a university to create equitable environments where members of our community can truly thrive and make a difference." 
For more information on the university's equity, diversity and inclusion efforts, visit the Office for Equity, Diversity and Inclusion website.