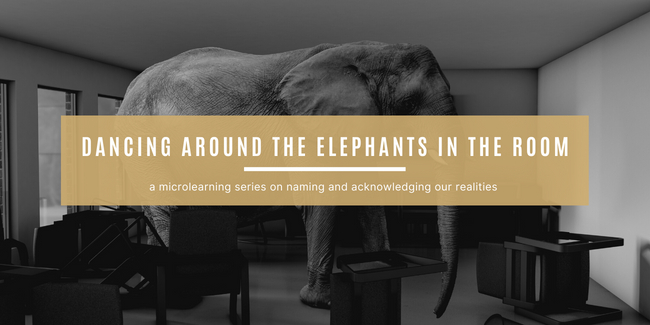 "Dancing Around the Elephants in the Room: A Microlearning Series on Naming and Acknowledging our Realities" will kick off with a discussion about mental health on Monday, Sept. 19.
Series description:
Not everything is OK—we've been in abnormal and unusual circumstances for more than two years, and the weight is becoming a burden that's hard to reconcile. It is difficult to continue our daily lives as if "everything is fine" while also questioning reality and facing the disbelief of what is happening around us. There is an expectation that we must sit in the uncertainty of these times and find ways to thrive, when how we previously mapped our experiences and organized our lives no longer seems to fit the challenge.
With transition comes great opportunity—but how do we manage not to collapse under the stress and pressure if it feels like the resources we need are no longer available, and requests for clarity go unanswered? We've heard about languishing, and we want to flourish, but we wonder—how is that possible?
Throughout this series, we will create space to name many of the current difficult dynamics in our lives as realities, help to reduce their weight by normalizing them, and engage in an experience to encourage a small shift forward.
We invite you to join us for any sessions that align with your interest and availability:
What is mental health anyway? – Monday, Sept. 19, 11:30 a.m.–noon
How to not know: Uncertainty and thriving through ambiguity – Monday, Oct. 3, 11:30 a.m.–noon
Hypervigilance and looking for the next bad thing – Monday, Oct. 10, 11:30 a.m.–noon
Doing more with less: Taking on more and more – Monday, Oct. 17, 11:30 a.m.–noon
Boundaries, priorities and balance – Monday, Oct. 31, 11:30 a.m.–noon
Languishing or flourishing: Binary or continuum? – Monday, Nov. 7, 11:30 a.m.–noon
These sessions are designed and facilitated by Heather Kamper, LCSW, from Work-Life Connections/EAP, and Krista Vaught, Ed.D., HR Employee Learning and Engagement.
Please note that these sessions are a learning and connection opportunity. If you are interested in individual counseling and support, we encourage you to reach out to the Employee Assistance Program of Work/Life Connections.
We encourage participants to share their experiences in the session if they are comfortable, and we will create opportunities to participate and engage in non-identifying ways. We also welcome participants who prefer to listen and observe. We strive for an experience where all participants feel included to participate at the level that is most comfortable for them individually. The first portion of the session will be recorded and available within Oracle Learn for learners who are not available at the time of the live session or who prefer to engage in the self-paced format.
Vanderbilt University is committed to creating opportunities for dialogue and discussion where staff and faculty feel safe and supported within the learning environment. It is important to note that while facilitators may be mandated reporters, all efforts will be made to protect confidentiality (to the extent allowed by law) and maintain a safe space for discussion, dialogue and learning. We encourage you to evaluate your own level of comfort and trust when sharing your experiences while keeping this in mind. If you have questions about reporting requirements at VU, please contact one of the facilitators.
To enroll in this series, please visit vanderbi.lt/elephants, or log in to Oracle, click on the Learn tab, and search for "Dancing Around the Elephants in the Room."
Please note that enrollment in Oracle is for the entire series. We welcome you to participate in any session that aligns with your availability. A portion of each live session will be recorded and available for viewing to increase accessibility.