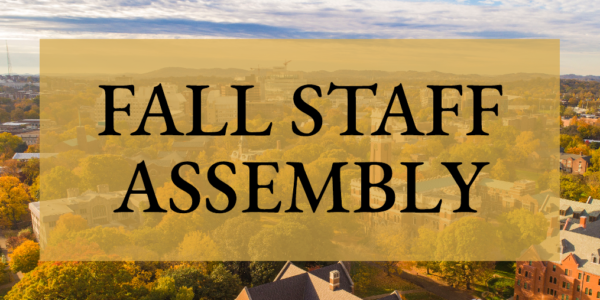 All Vanderbilt University staff are invited to attend the Fall Staff Assembly, either in person or virtually, at 3:30 p.m. on Thursday, Sept. 29. The event will celebrate university staff and their many contributions to the university's mission and will feature remarks from Chancellor Daniel Diermeier, Vice Chancellor of Administration Eric Kopstain, University Staff Advisory Council President Amanda Harding and other members of the university community. The fall awards for staff excellence will be presented at the event.  
In-person seating based on RSVPs will be at the Student Life Center ballroom on a first-come, first-served basis. Free parking is available in the 25th Avenue Garage from space 372 to the rooftop. Please use the Highland Avenue entrance.  
The event will be livestreamed on the Vanderbilt Employee Appreciation webpage and recorded for later viewing.  
Register for the Fall Staff Assembly >>
Upon his arrival in 2020, Diermeier began a tradition of holding fall and spring assemblies to recognize and celebrate staff. This will be the fifth staff assembly.  
The awards for individual and group staff recognition at the fall assembly are: Community Impact, Professional Excellence, Innovation Excellence, Research Excellence, Student Impact and Leadership Excellence. 
A reception will follow the program for those in attendance.