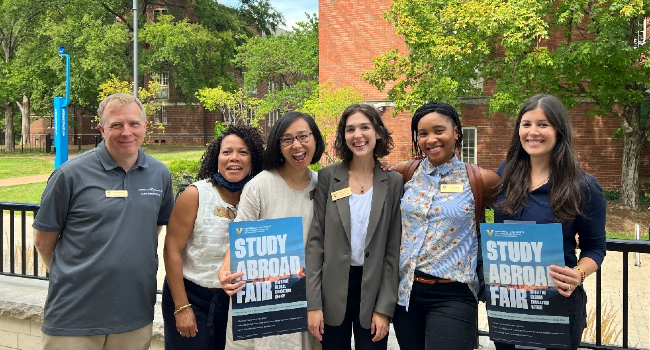 More than 300 undergraduate students learned about Vanderbilt's study abroad and experiential learning opportunities at the Global Education Office's annual Study Abroad Fair on Aug. 30. The winners of this year's study abroad photo contest also were celebrated.
GEO staff were joined at the event by representatives from many of the university's 140+ approved study abroad programs, as well as campus partners including the Office of Financial Aid, the Career Center's Fellowships Team, and the School of Engineering. Past study abroad participants were present to share their experiences firsthand with prospective first-year students, sophomores and juniors.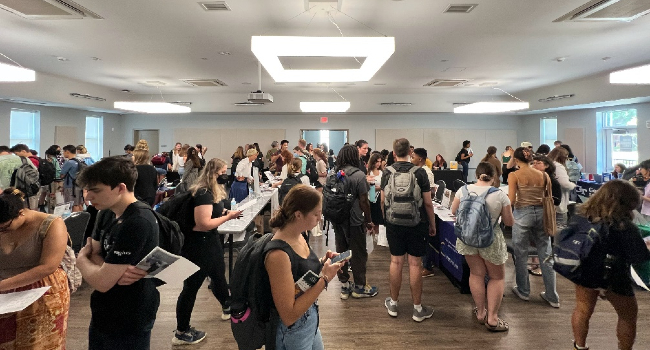 The Study Abroad Fair showcased the eight winning photos from GEO's annual photo contest. Each year, GEO invites the previous year's study abroad participants to submit photos from their time overseas. The winning photos creatively convey students' engagement with their host country's culture, connect artistic expression with learning, and provide new perspectives.
This year's winners are:
Adam Song, '23, Highlands at Kinlochleven
Audrey Millar, '24, Dome of the Rock
Gui Quintero Rutherford, '23, Portrait of Edith Cottrell
Hannah Sidhom, '22, Strolling Through Santo Spirito
MacKenzie Gleason, '22, View of Namsan Tower
Nathan Miao, '23, Laborer on the Seine
Peter Taylor, '23, Sunset on the Tuscan Countryside
Susanna Harpold, '23, Postcard View of Table Mountain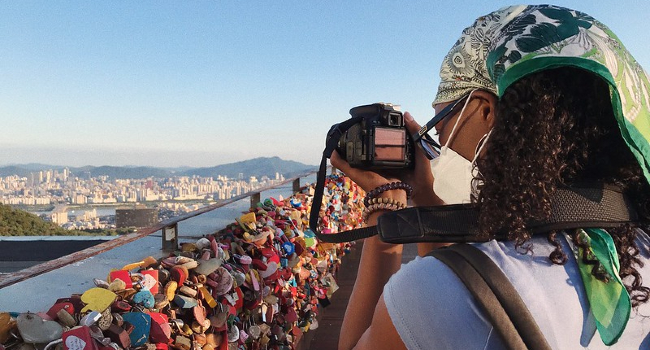 The Global Education Office is a unit of the Office of Experiential Learning and Immersion Vanderbilt, which serves as an umbrella for multiple experiential learning units. The office assists in the coordination of showcasing presentations for students as part of the Immersion Vanderbilt graduation requirement.
GEO commits to preparing global citizens by providing innovative and high-quality international learning experiences that build on Vanderbilt University's commitment to academic excellence, global engagement and community service. Study abroad is an integral part of the undergraduate experience at Vanderbilt, with about 50 percent of students studying abroad in recent years from all undergraduate schools and across most majors. Students can study abroad during the academic year and summer terms.
To learn more about study abroad at Vanderbilt, including questions about how a study abroad experience can be part of Immersion Vanderbilt, visit vanderbilt.edu/geo.