Media Inquiries
Latest Stories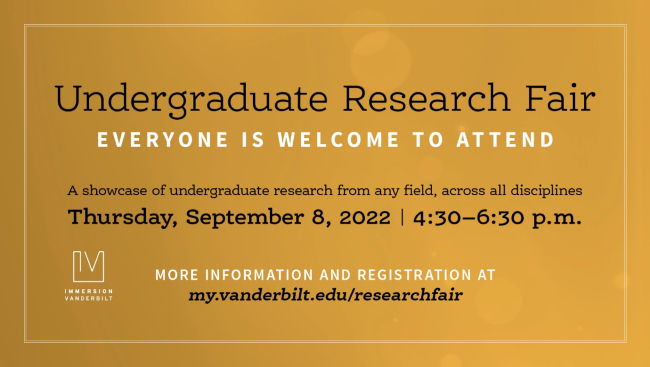 The fall 2022 Vanderbilt Undergraduate Research Fair is scheduled for Thursday, Sept. 8, from 4:30 to 6:30 p.m. The event will be held in the Student Life Center ballroom.
The fair will feature poster presentations of student research projects that are representative of a variety of fields and disciplines. Provost and Vice Chancellor for Academic Affairs C. Cybele Raver is the keynote speaker for this year's event. Breakout sessions are scheduled during the fair and will provide attendees with information about research opportunities for undergraduates across and beyond campus.
The event program will be posted on the Vanderbilt Undergraduate Research Fair webpage.
All students, faculty and staff are encouraged to attend the research fair. The event is free and open to the public. This event coincides with Family Weekend; all are welcome to attend.
The Undergraduate Research Fair is sponsored by the Office of Experiential Learning and Immersion Vanderbilt in partnership with the Vanderbilt Undergraduate Summer Research Program, the Littlejohn Family, the Goldberg Family and the Office of the Provost.
Any questions about the Undergraduate Research Fair should be directed to the Office of Experiential Learning and Immersion Vanderbilt (experiential.learning@vanderbilt.edu).