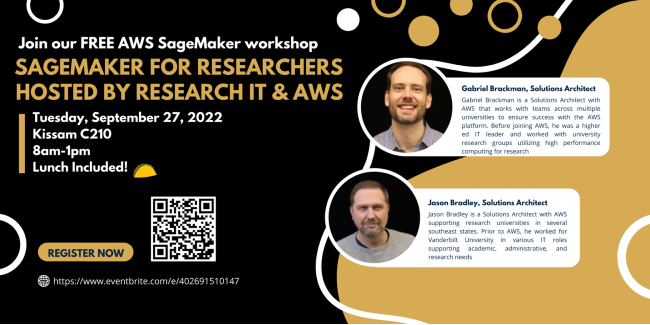 Join Research IT and Amazon Web Services for a free half-day SageMaker workshop.
Tuesday, Sept. 27
Kissam C210
8 a.m.–1 p.m.
Lunch included
Amazon SageMaker Immersion Day provides content and hands-on lab experience to build, train and deploy machine learning models quickly. SageMaker removes the heavy lifting from each step of the machine learning process to make it easier to develop high-quality models.
Speakers:
Gabriel Brackman, solutions architect. Brackman is a solutions architect with AWS who works with teams across multiple universities to ensure success with the AWS platform. Before joining AWS, he was a higher ed IT leader and worked with university research groups utilizing high-performance computing for research.
Jason Bradley, solutions architect. Bradley is a solutions architect with AWS supporting research universities in several Southeast states. Prior to AWS, he worked for Vanderbilt University in various IT roles supporting academic, administrative and research needs.