Associate Professor of Anthropology T.S. Harvey has been awarded a Ford Foundation Senior Fellowship—a first for a Vanderbilt faculty member—for his environmental justice and public health work in Guatemala.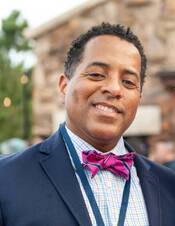 Harvey is one of only two 2022 recipients of the senior fellowship, which is intended to support research that advances and contributes knowledge to sciences, engineering and medicine. The fellowships also support the Ford Foundation's aims to increase the ethnic and racial diversity of college and university faculty and expand resources to educate and enrich students. 
"I am proud to be able to bring this award to Vanderbilt as the first senior fellow for the Ford Foundation from the university," Harvey said. "I received the fellowship for my dissertation research, making it possible for me to apply, and now I am able to reactivate on-the-ground research in Central America." 
Harvey's research, "The Work of Their Own Hands: Struggles for Environmental Justice, Global Public Health, and Sustainability in Guatemala," focuses on expanding scientific partnerships, developing innovative technologies and building local capacities to collaboratively tackle large-scale public health and environmental challenges—notably those that emerge at the critical intersection of vulnerable populations, environmental degradation, disease, health disparities, risk, communication and misinformation. 
"The Ford Foundation positions Harvey to complete a book on environmental justice and global public health, using his years of ethnographic and field research in Guatemala and other areas as eye-opening case studies, showing how Maya and nonindigenous ethnic groups in Guatemala had been historically underrepresented in environmental decision-making," said Tiffiny Tung, vice provost for undergraduate education, Gertrude Conaway Vanderbilt Chair in Social and Natural Sciences and professor of Anthropology. "I'm pleased to see the foundation supporting this impactful research, and anthropologists like Harvey have much to offer to the world of public policy and public health in the efforts to create more healthy environments for human communities across the globe." 
Central America is particularly vulnerable to climate change, according to data from the Wilson Center. The impacts of temperature increases, extreme weather events, flooding and drought are magnified by the continued degradation and loss of soil cover, the growing influence of criminal organizations, fiscal constraints and a rights crisis reflected in forced displacement and the killings of Indigenous, Afro-descendant and other local populations.  
"There are 23 different indigenous languages in Central America, so as a medical and linguistic anthropologist, one of the things I focus on is that, if we're going to address global public health disparities and issues of environmental justice, we really have to do this in the language that the people speak," Harvey said. 
The Ford Foundation Fellowship Programs have been administered by the National Academies of Sciences, Engineering and Medicine since 1979, and the Ford Foundation has invested in fellowships as far back as the early 1960s. These fellowship awards have made substantial contributions in bringing excellence and diversity to the academic community by supporting the career development of almost 5,000 outstanding scholars.