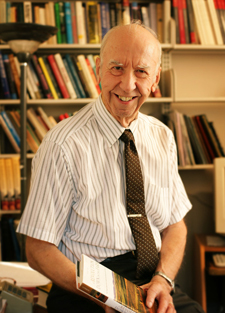 Paul K. Conkin, Distinguished Professor of History, Emeritus, former chair of the Department of History and author of more than 20 books on a wide range of American intellectual history, died July 23 in Nashville. He was 92.
Conkin was born in the rural East Tennessee town of Chuckey in 1929 and earned a bachelor of arts in 1951 from Milligan College in Johnson City, Tennessee. He earned a master of arts from Vanderbilt in 1953. Shortly after, he was drafted into the U.S. Army. After completing his service, he returned to Vanderbilt, where he earned his Ph.D. in 1957.
Before Conkin's tenure at Vanderbilt, he taught at the University of Southwestern Louisiana, Lafayette (1957–1959), University of Maryland, College Park (1959–1967), and the University of Wisconsin, Madison (1967–1979), serving as the Merle Curti Professor of History from 1976 to 1979. He joined Vanderbilt's Department of History in 1979 as Distinguished Professor of History and was awarded emeritus status in 2001. From 1984 to 1987, he chaired Vanderbilt's Department of History.
"Paul was a legendary figure within our department, one of the most accomplished and prolific American intellectual historians of his generation," said Thomas Schwartz, Distinguished Professor of History and professor of political science. "His early work on the origins of the New Deal set the standard for the historiography of this fundamental time in American history. As an intellectual historian, Paul's interests were diverse and multifaceted. He wrote on the history of historical writing, political history, biography, political economy, American religious history and environmental history."
A sampling of his many books includes:
Tomorrow a New World: The New Deal Community Program (Cornell, 1959)
The New Deal (first edition, 1967, third edition, 1992, Harlan Davidson); hardcover edition published as FDR and the Origins of the Welfare State (Thomas Y. Crowell, 1967)
Puritans and Pragmatists: Eight Eminent American Thinkers (first edition, Dodd Mead, 1968; second edition, Baylor University Press, 2006)
Self-Evident Truths: Being a Discourse on the Origins and Development of the First Principles of American Government—Popular Sovereignty, Natural Rights and Balance and Separation of Powers (Indiana University Press, 1974)
Prophets of Prosperity: America's First Political Economists (Indiana, 1980)
American Christianity in Crisis (Baylor, 1981)
Big Daddy from the Pedernales: Lyndon Baines Johnson (G.K. Hall, 1986)
American Originals: Homemade Varieties of Christianity (University of North Carolina Press, 1997)
When All the Gods Trembled: Darwinism, Scopes, and American Intellectuals (Roman & Littlefield, 1998)
The State of the Earth: Environmental Challenges on the Road to 2100 (University Press of Kentucky, 2007)
A Revolution Down on the Farm: The Transformation of American Agriculture Since 1929 (Kentucky, 2008)
Conkin co-edited TVA, Fifty Years of Grass-Roots Bureaucracy (University of Illinois, 1983) with Erwin C. Hargrove, professor of political science, emeritus, and past director of the Vanderbilt Institute for Public Policy Studies.
He published Peabody College: From a Frontier Academy to the Frontiers of Teaching and Learning in 2002 (Vanderbilt University Press), but it was Gone with the Ivy: A Biography of Vanderbilt University, a history of Vanderbilt from its founding to the retirement of Chancellor Alexander Heard in 1982, that created controversy. Vanderbilt administrators wanted extensive edits before agreeing to publish the book and refused to allow the use of the alumni mailing list to promote it. Conkin, wishing no further delays so he could work on his book about President Johnson, offered the manuscript to the University of Tennessee Press, which published it in 1985. The expansive tome—taken on by Conkin from history faculty member Henry Lee Swint after Swint's retirement, and with research assistance from Patricia S. Miletich—viewed the university through critical analysis and the context of history.
Conkin received the Tennessee History Book Award for Gone with the Ivy in 1987. Conkin's other academic awards included the Albert J. Beveridge Award from the American Historical Association, a John Simon Guggenheim Memorial Fellowship and two fellowships from the National Endowment for the Humanities. He served as president of the Southern Historical Association in the late 1990s. At Vanderbilt he was honored with the Thomas Jefferson Award, the Earl Sutherland Research Prize, the Graduate Teaching Award, the Harvie Branscomb Distinguished Professor Award and the Alexander Heard Distinguished Service Professor Award.
"Paul demanded excellence and was rigorous in his craft, always asking the most penetrating questions," Schwartz said. "He was a model of scholarly integrity, an encouraging if occasionally frightening mentor to younger historians, and a true inspiration in his leadership of the department. Paul Conkin was a remarkable man who will be sorely missed by those who had the privilege to know him."
Predeceased by his first wife, Dorothy Tharp Conkin, he is survived by his second wife, Diane Baldwin Conkin; a sister, Lois Hunt; his children, Keith Conkin, Claudia Neely and Lydia Wong, BA'85; and five grandchildren.
Conkin was an active member of the First Unitarian Universalist Church of Nashville. Services will be at the church at 2 p.m., Friday, Aug. 12.