Media Inquiries
Latest Stories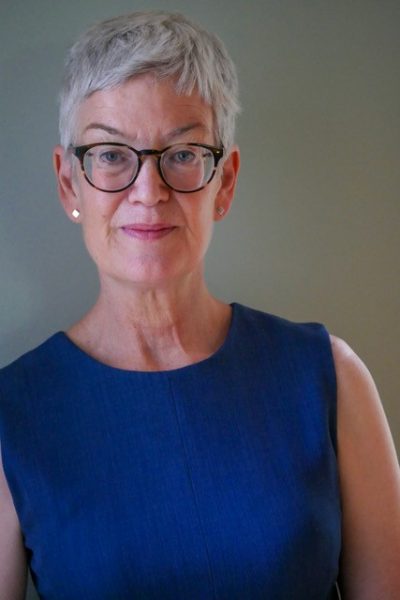 Vanderbilt has named Leah Lowe, a theatre department faculty member who has developed and strengthened ties between the university and Nashville arts community, as director of the Curb Center for Art, Enterprise and Public Policy. Her new role begins Aug. 15.
Lowe, associate professor of theatre, succeeds Jay Clayton, who is stepping down after leading successful efforts for more than a decade to expand the Curb Center's reach and visibility. Clayton, William R. Kenan, Jr. Professor of English, also worked closely with Alexandre Frenette, the center's associate director and assistant professor of sociology, to enhance the center's research mission. Frenette is stepping down as well, with both scholars returning to the College of Arts and Science faculty this fall.
"The Curb Center has flourished under the leadership of Jay Clayton and Alex Frenette," said Tracy Sharpley-Whiting, vice provost for arts and libraries and Gertrude Conaway Vanderbilt Professor of African American and Diaspora Studies and French. "Their accomplishments have laid a strong foundation for the center's bright future with Leah Lowe—who brings not only a wealth of leadership experience but also a strong track record for forging university-community relationships. She and her new team of associate directors, Molly Barth and Ji Hye Jung, will build on Curb's strengths and successes with increased engagement in the performing arts."
Jung, associate professor of percussion, will serve as associate director for the fall semester, and Barth, associate professor of flute, will assume the role from Jung in January 2023.
Lowe, who joined the faculty from Connecticut College in 2011, has raised the bar on innovative student productions and has served as department chair for a total of seven years. In addition, she was interim director of the American Studies program this past academic year and received the Jeffrey Nordhaus Award for Undergraduate Teaching in the Humanities in 2018.
"Leah is a creative, caring teacher and scholar who has lifted our theatre program's profile since her arrival in 2011," said John Geer, Ginny and Conner Searcy Dean of the College of Arts and Science. "She is the ideal candidate to expand upon the terrific work that Jay and his team have done to integrate the arts into all aspects of Vanderbilt and the broader community, and I'm excited for the new possibilities under Leah's leadership."
On campus, Lowe spearheaded the Plays from the Pandemic project, which commissioned and produced plays with themes inspired by the COVID-19 pandemic. In 2021, she led the committee of faculty and students who selected the plays from diverse and emerging playwrights, and she directed two of the shows: Wingman Telegram and To Stab a Butterfly Through the Heart, or Vladimir Nabokov on a Westbound Train.
In the Nashville community, she has directed several plays for Actors Bridge Ensemble, including Tiny Beautiful Things last April, and the Nashville Shakespeare Festival's upcoming production of Cymbeline. She was a co-collaborator and directed the world premiere of Sloppy Bonnie: A Roadkill Musical for the Modern Chick at OZ Arts Nashville in spring 2021.
"I'm thrilled for this opportunity to build on the legacy that Jay, Alex and others have established at the Curb Center," Lowe said. "They have done wonderful work in pairing art with different constituencies on campus and across the region. In addition, Nashville's explosive growth has propelled dramatic changes in the Nashville arts scene, and there are new opportunities to highlight the amazing art being created on our campus. I look forward to working with my colleagues to enhance Vanderbilt's role within Nashville's distinctive arts and culture."
Lowe earned her doctorate in dramaturgy and a certificate in women's studies at Florida State University. She also earned an MFA in directing at the University of Minnesota after completing her undergraduate studies in theater and religion at Oberlin College.
She will continue to teach in the theatre department and hopes that the Curb Center can develop programming in the coming months to accompany a new Vanderbilt–Fisk arts partnership. The two departments will co-produce the play Sweat by Lynn Nottage in April 2023. Actors and crew members will be selected from both universities, and the production will be presented at Fisk's Little Theatre and at Vanderbilt's Neely Auditorium.
"As a national policy center, the Curb Center plays an incredibly important role in developing the next generation of creative leaders," Clayton said. "It has been an honor and the opportunity of a lifetime to work with incredible colleagues who are fully committed to extending the influence of the arts throughout Vanderbilt, Nashville and the world. I know that the Curb Center will continue to thrive and grow even stronger with the vision and determination of Leah and her colleagues from Blair, Molly and Ji Hye."
The Curb Center was established on the Vanderbilt campus in 2003 with funding from music executive Mike Curb and grants from the university. The founding director was Bill Ivey, author, folklorist, consultant and former chairman of the National Endowment for the Arts.