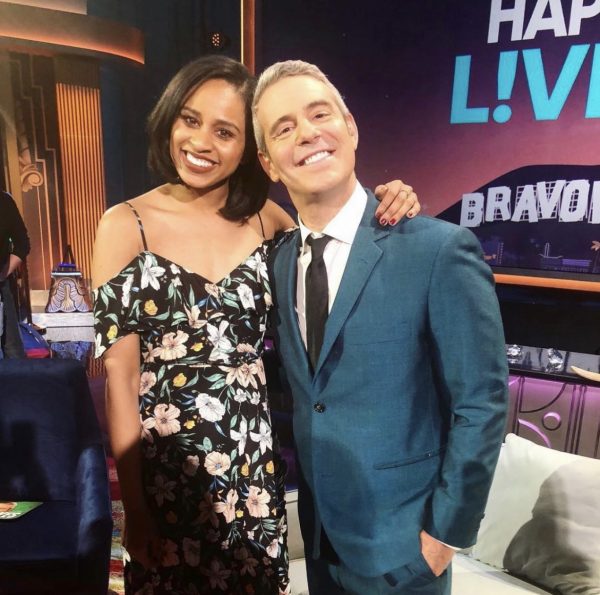 Imani Ellis recalls wanting to meet popular Bravo television host Andy Cohen as far back as 2010, when she sat in her Vanderbilt dorm room and shared her career dreams on Twitter. After graduation she fulfilled that wish and then some, not only meeting Cohen but eventually becoming his publicist at NBCUniversal in New York City, where she manages all of his press appearances. As the company's vice president of communications, she leads a team that creates comprehensive press strategies and media campaigns for unscripted shows across the NBCU portfolio.   
Ellis began her journey to becoming a network executive as a communication studies major and double minor in German and film studies at Vanderbilt. "I wrote about fashion and culture at the Hustler, had a TV show called It's Imani, and was a campus tour guide," she says. "The resources were endless at Vanderbilt. A lot of my friends were studying to become doctors and lawyers, but I always knew that I wanted to live in New York City and work in entertainment."   
Ellis went from being an NBC page to vice president in 10 short years. "I was able to envision the life I wanted for myself while at Vanderbilt. I saw the dream first, sitting in my dorm room, and now I'm seeing it again, for a second time, in real life. In my role today, no day has been the same because I am constantly learning and growing," she continues. "I started as an NBC page (thanks to the guidance of Vanderbilt alumnus Dan Lovinger), and as I continued to grow in the company, I always challenged myself to learn new skills to reach the next level."   
Another Vanderbilt connection that played a vital role in Ellis' development: Senior Assistant Director of Admissions John Nesbitt, BA'06, MEd'11, whose responsibilities included managing the university's tour guides. "He was an incredible mentor and leader to me," she says. "Being a tour guide gave me the confidence to speak in front of people and helped me realize how important it is to share your experiences in order to encourage others." 
Living in New York City is a dream for many young professionals, but in a city of more than 8 million people, Ellis knew she needed community. She began inviting a few friends to her Harlem apartment, but soon those small gatherings evolved into CultureCon, the fastest-growing networking conference for creatives and changemakers of color. In 2019, CultureCon had more than 2,500 guests attending panels and networking sessions. CultureCon has attracted stars including Tracee Ellis Ross, Spike Lee, Regina King, Jay Ellis, Naomi Campell and John Legend. This year, CultureCon expanded from New York City to a three-city tour.  
"CultureCon came from wanting both career and community. I like to empower people to realize that they can have a full life that includes a dream career and a passion," Ellis says.  
Using community and communication as her North Star, Ellis has been able to build an ecosystem that caters to championing diverse voices.  
"At the end of the day, people are meant to be connected—a strong community is a lifeline. When networking, I encourage people to truly connect to the person they want to learn from and to avoid being transactional," Ellis says. "Finding and building a community helped sustain me. It's made me whole." 
–Celeste Malone