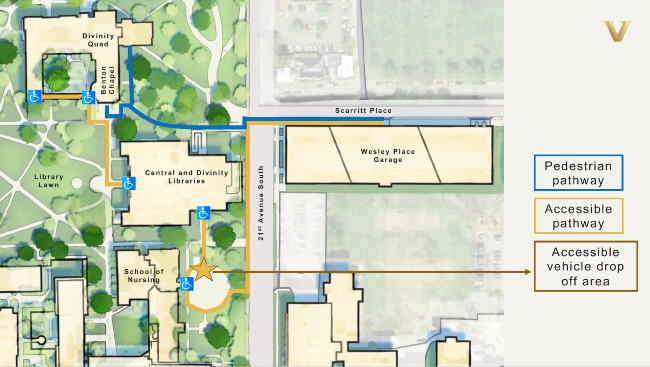 The Owen Graduate School of Management renovation and addition project, set to open for the 2022–23 academic year, will expand its site borders to complete the remainder of the work. This transformative project will bring all of the school's student body under one roof, add innovative learning spaces and redesign the entrance on 21st Avenue to be more welcoming and improve connectivity to the Nashville community.  
Beginning Monday, July 11, the accessible pathway from 21st Avenue and Wesley Place Garage will change.  
Pedestrians should enter through the second-level breezeways located on the south side of the Central and Divinity libraries, next to the School of Nursing, and cross the breezeway to the elevator. Take elevator No. 3 to the fourth floor and exit straight out onto Library Lawn. Non-VU community members will need to ring the doorbell/camera to gain access to the building. VU students, faculty and staff can use their badge to gain entry during library hours. The Central and Divinity libraries are open Monday through Friday from 7:30 a.m. to 6 p.m., and Saturday and Sunday from noon to 6 pm. The accessible path is clearly marked.  
There is also an accessible drop-off location in the circle lot in front of the School of Nursing.  
Parking
The accessible parking spaces located in Lot 6B and the driveway between OGSM and the Divinity School will remain closed for the duration of the project. Those needing an accessible parking space should use the spots near Wilson Hall in lots 5 and 6, as they have the best accessible route into the center of campus. There also are accessible spots available in nearby Weasley Place Garage, Lot 5A, Lot 5B and in Lot 96 in front of the Vanderbilt Kennedy Center. Anyone needing additional assistance locating accessible parking should contact Parking Services at 615-322-2554 or parking@vanderbilt.edu. 
University CSO officers will be patrolling the area; vehicles parked in the School of Nursing circle or within the job site will be ticketed.  
Pedestrians
The west-side sidewalk located on 21st Avenue South will remain closed, and the fence will be moved to also close one southbound lane of 21st Avenue for the remainder of the project. One lane will remain open for traffic, and both northbound lanes will remain open.  
Pedestrian traffic in the area should continue to use the crosswalk at 21st Avenue South and Grand Avenue or the crosswalk at 21st Avenue South and Scarritt Place to walk on the east side of 21st Avenue.  
Additional information
In addition to these resources, a MobilityRide can be scheduled for a student, faculty or staff member with mobility needs. Information may be found at https://www.vanderbilt.edu/movevu/transportation-options/#mobilityrides. 
Any questions or concerns, contact Campus Planning and Construction at constr_alerts@vanderbilt.edu.