Like many teenagers in the 1950s, Kathryn Plummer adored Elvis Presley.  
Growing up in Kentucky, Plummer couldn't wait to get down to the local record shop to buy the latest Presley release on a 45-rpm vinyl single, the go-to option in the early days of rock-and-roll, to play a beloved song on repeat.   
Whether it was "Don't be Cruel" or "Jailhouse Rock," Plummer was hooked on a musical style that was different from anything she'd ever heard before. The young woman who loved music developed her own passion for the craft, becoming an accomplished performer who today is a professor of viola at Vanderbilt University Blair School of Music.   
 As a soloist, Plummer has performed at the National Gallery of Art and Alice Tully Hall, on National Public Radio, and at several International Viola congresses. She has appeared as soloist with the Nashville Symphony Orchestra, the Festival der Zukunft Orchestra (Switzerland), the Anchorage Symphony Festival Orchestra, the Peninsula Festival Orchestra, the Aspen Festival Student Orchestra and the Indiana University Orchestra. A former violist with the Blair String Quartet, she presented several world premieres and gave a New York debut in Carnegie Hall's Weill Recital Hall.  
Accolades as a classical performer started rolling in early in Plummer's career. Before long she found herself invited to play on albums for big acts, including the King in 1976.  
She recently spoke to MyVU about her time working on Presley's albums and how she uses her early days in the recording studio as a teaching tool for her Vanderbilt students in the classroom today.  
Q: Tell us about your time working with Elvis Presley. How did you end up working on his album? How did you break into the commercial industry in Nashville?  
I've been very fortunate. I played for a lot of the greats when I came to Nashville in 1974. The very first sessions I played were with Johnny Cash. We recorded with him at the House of Cash in Hendersonville. June Carter Cash catered the whole orchestra for lunch and dinner. We did four sessions back-to-back (12 hours); it was quite memorable.  
I played on the Elvis sessions in 1976 and recorded eight different songs: "Bitter They Are, Harder They Fall," "I'll Never Fall in Love Again," "Love Coming Down," "Moody Blue," "Never Again," "She Thinks I Still Care," "Solitaire" and "The Last Farewell." Unfortunately, he was not there. Back then they would often record tracks separately within the orchestra. The strings would come in separately from the guitar and percussion, brass and the woodwinds. Elvis often did his own vocals at Graceland, especially as he got older.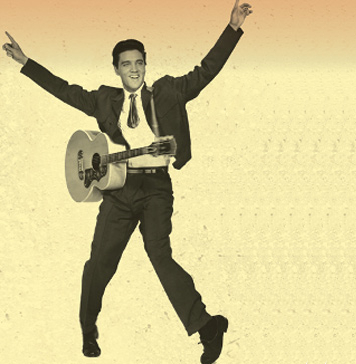 The song I remember most vividly was called "The Last Farewell." It was originally recorded by an artist from Britain named Roger Whittaker. I was part of a reduced string section in a small, crowded home studio, but we overdubbed many times to create a full lush sound. All the other songs, I believe, were recorded at the iconic RCA Studio on Music Row.   
I came to Nashville to join the Blair Academy faculty and play in the Blair String Quartet. Because of my past experiences (I'd gone to Juilliard, played in the Cincinnati Symphony), I had a solid resume to back up my playing. The Blair String Quartet connection enabled me to automatically break into the recording business within days of arriving in Nashville.  
I worked closely with Christian Teal, now a professor of violin, emeritus, who worked at Blair for 42 years before retiring in 2014. Chris played a lot of sessions. And he said to people around town, "We've got a new violist and you really need to hire her."  
I did not have to audition. The audition was, "Can you play the part and not make mistakes?" Luckily, I passed the test.  
I was also fortunate to play for a Lucille Ball event out at Opryland. I did a lot with Charlie Daniels. Some sessions with Kenny Rogers. I've played with Garth Brooks, and many, many more. And more recently, with Ben Folds. I've also done work for Disney and played on the movie soundtrack for Pocahontas.   
Q: What is it like to see Elvis' music introduced to new generations, with popular culture (like a new movie coming out on June 24) adding to his story? Do you look back differently on your time working on the album when you recognize what his legacy is today?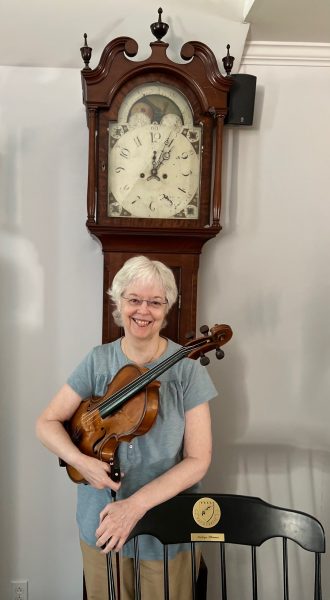 I still love Elvis' early songs. I was 8 years old when "Heartbreak Hotel" came out in 1956.  My older sister, who was 13 at the time, introduced Elvis to my twin sister and me. The three of us would go down to Barney Miller's on Main Street in Lexington, Kentucky, and put down whatever it cost to buy a 45 single.  
I can still see the record jackets in my mind. "Hound Dog," "Don't Be Cruel," "Love Me Tender," "(Let Me Be Your) Teddy Bear," and "Jailhouse Rock." All these songs were just ingrained in me. I listened to them until the records were almost not playable on our old record players with terrible needles.   
It's very nostalgic. I thought Elvis embodied such an authentic, beautiful, emotional style. I wasn't as fond of some of his later years, the Las Vegas music and all that. But I still go back and listen to his old recordings. And they still speak to me.    
Q: How did your experiences in the recording studio make you a better musician?  
Playing in the studios improved my sight reading and use of my ear and theory skills. I tell my students how important it is to have great sight-reading ability and good pitch and rhythm because those will make or break your opportunities in music, period. I tell my students also to study theory, know how to transpose. While most of the time we have music clearly notated, sometimes artists will transpose to a new key. The Johnny Cash sessions really tested me as he changed so much on the spot. He'd say, "You know, my voice sounds better this way, so let's go down a third or let's try it in this key." I learned how to transpose quickly.  
As a teacher, I want my students to be open to all kinds of musical opportunities. There are so many ways to enjoy making music, and I encourage my students to develop the skills that will enable them to pursue many paths. I've enjoyed and learned from so many different artists and am a better musician for it.   
I have the greatest respect for arrangers and producers. Somebody on the spot would say, "Hey, you know, I don't like this line, how it sounds in the track. Can you rewrite it?" And they would speak in theory terms that I had studied, but never mastered. They could improvise very quickly and write it out. And then we had to quickly do melodic and rhythmic dictation, something I'd studied in college theory classes but had never really had to utilize until I worked in recording studios.  
So, I think I became a better player. Even at my age now, I'm still curious about how I can be a more complete musician.  
Reflecting back to Elvis Presley, I've been to Graceland and the Sun Studios in Memphis and I've read both of Peter Guralnick's Elvis biographies. His music was a big part of my life during a very impressionable age. I know it affected my whole musical development because I heard such emotional depth in his early music. It is amazing to know I loved his music as an 8-year-old. Who would believe I would be recording with him 20 years later!  
Students need to be authentic and true to themselves all the time. And I think the young Elvis was that. My students can learn that from him, even today.   
###
MORE ONLINE: TUNE IN TO MUSIC CITY MONDAYS 
In our new Music City Monday series, we're celebrating a few of the Vanderbilt University Blair School of Music faculty members who are working with world-renowned musicians across a range of genres.  
Catch a new story every Monday this summer on Vanderbilt's social media channels.  
VANDERBILT CONNECTIONS TO THE KING 
Vanderbilt University has more than one unique connection to Elvis Presley. Kathryn Plummer, a professor of viola, played in two of Presley's sessions in 1976.  
Peter Guralnick, an acclaimed music writer who previously taught creative writing at Vanderbilt, authored widely admired biographies of Presley titled Last Train to Memphis: The Rise of Elvis Presley and Careless Love: The Unmaking of Elvis Presley.