Media Inquiries
Latest Stories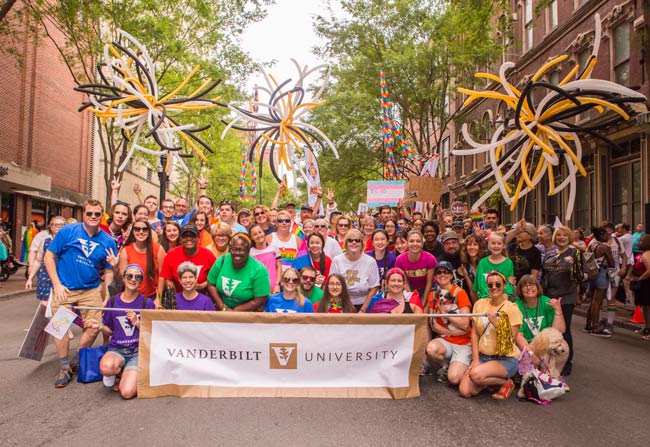 In celebration of LGBTQIA+ Pride Month, Vanderbilt is inviting members of the university community to several events offered this June through the K.C. Potter Center and the Glammadores LGBTQIA+ Employee Affinity Group, as well as Pride Month events across Nashville.
"This month, we celebrate pioneers such as Marsha P. Johnson, Sylvia Rivera and Harvey Milk, who paved the way for equality within the LGBTQIA+ community," said André L. Churchwell, vice chancellor for equity, diversity and inclusion and chief diversity officer. "Pride is about acceptance, love and hope, and it is of the utmost importance to honor those who came before us."
Pride Month, celebrated throughout June, honors the anniversary of the Stonewall Uprising on June 28, 1969, when police officers raided the Stonewall Inn, a gay club in New York City. The protests that followed served as a catalyst for even more political activism within the LGBTQIA+ community and paved the way for the first gay pride parade in the country in 1970.
Pride Month 2022 Events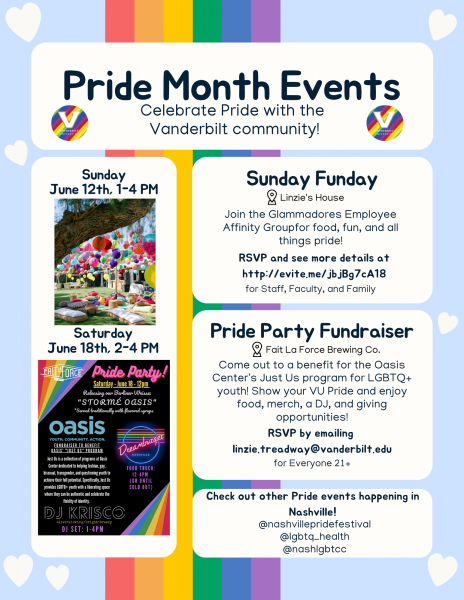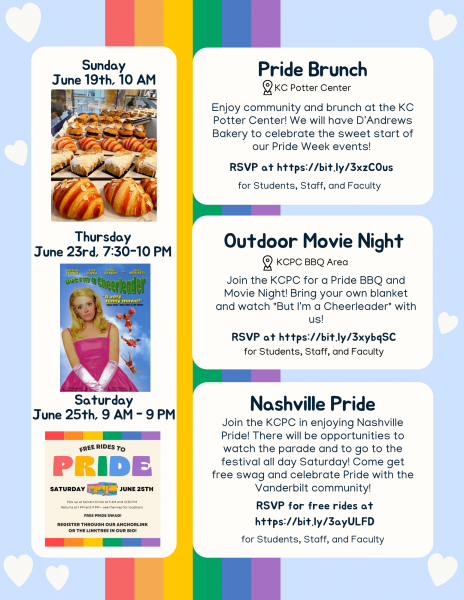 Pride Party Fundraiser
Saturday, June 18
2–4 p.m.
Fait La Force Brewing Co.
Show your VU Pride and enjoy food, merch, a DJ and giving opportunities at this benefit for the Oasis Center's Just Us program for LGBTQIA+ youth. This event is hosted by the Glammadores employee affinity group and is open to members of the Vanderbilt community who are 21 and over.
RSVP by emailing linzie.treadway@vanderbilt.edu 
Pride Brunch
Sunday, June 19
10 a.m.
K.C. Potter Center
Enjoy a community brunch provided by D'Andrews Bakery. This event is for Vanderbilt students, faculty and staff.
RSVP at https://bit.ly/3xzC0us 
Pride Outdoor Movie Night
Wednesday, June 22
7:30–10 p.m.
K.C. Potter Center (Patio Area)
Bring your own blanket and grab some popcorn and drinks as you enjoy a showing of But I'm a Cheerleader. This event is open to the Vanderbilt community.
RSVP: https://bit.ly/3xybqSC
Pride Rides
Saturday, June 25
9 a.m.–9 p.m.
The K.C. Potter Center is offering free shuttle rides to and from the Nashville Pride parade and festival, so come get free Pride swag and ride in style with the Vanderbilt community. Shuttle rides are available to students, faculty and staff.
Rides will follow these routes:
9 a.m. pick-up (Sarratt Circle) – 9:30 a.m. drop-off (8th and Demonbreun) to Parade
Noon pick-up (8th and Demonbreun) – 12:30 p.m. drop-off (Sarratt Circle) to Vanderbilt
12:30 p.m. pick-up (Sarratt Circle) – 1 p.m. drop-off (Bicentennial Mall) to Festival
9 p.m. pick-up (Bicentennial Mall) – 9:30 p.m. drop-off (Sarratt Circle) to Vanderbilt
RSVP: https://bit.ly/3ayULFD