In celebration of Juneteenth at Vanderbilt, the Office for Equity, Diversity and Inclusion and the Bishop Joseph Johnson Black Cultural Center offer opportunities to honor and celebrate the holiday.   
Vice Chancellor for Equity, Diversity and Inclusion André L. Churchwell recently sat down with two faculty members to discuss the importance of the date, which commemorates the end of slavery in the U.S. 
"Acknowledging Juneteenth remains an important act in America's process of understanding and addressing race, racism and race relations in America," Churchwell said. "As we approach the Juneteenth holiday—celebrated every year on June 19—we are intentional to take a moment to learn more about this special day and discuss its significance to the past, present and our shared future." 
Although President Abraham Lincoln's Emancipation Proclamation was enacted on Jan. 1, 1863, it wasn't until nearly two and a half years later, on June 19, 1865, that Union soldiers arrived in Galveston, Texas, to announce that the Civil War had ended and those who were enslaved in the state were free. Celebrations among the newly freed began, and Juneteenth was born. 
Joining Churchwell for the recent discussion were Major Jackson, Gertrude Conaway Vanderbilt Chair in the Humanities, professor of English and director of creative writing; and Tracy Sharpley-Whiting, Gertrude Conaway Vanderbilt Distinguished Chair in the Humanities and professor of African American and diaspora studies. Sharpley-Whiting also is a professor of French, associate provost for academic advancement, and director of the Callie House Research Center for the Study of Global Black Cultures and Politics.
Juneteenth Celebration of Freedom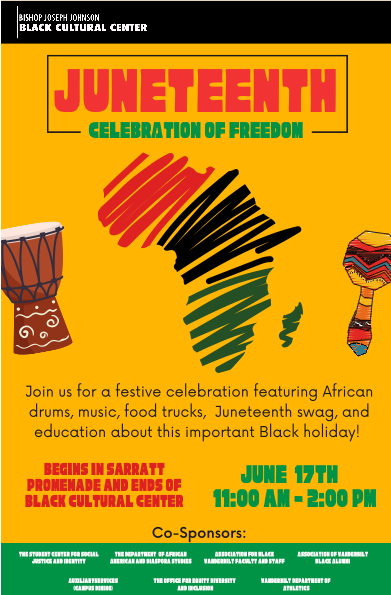 The Bishop Joseph Johnson Black Cultural Center is hosting its annual Juneteenth Celebration of Freedom at 11 a.m. on Friday, June 17. The event, which will begin at Sarratt Promenade and end at the Black Cultural Center, will feature African drummers, music, interactive games and educational sessions about the holiday, and ways for attendees to get involved in the continuing fight for freedom in our country. 
"While the Juneteenth holiday is a special time to reflect on the past," said Rosevelt Noble, director of the Bishop Joseph Johnson Black Cultural Center, faculty head of Stambaugh House and senior lecturer in sociology, "we also are intentional in efforts to encourage attendees to ponder on modern-day struggles for freedom and equality." 
Seven Black-owned vendors will be set up near the Black Cultural Center's newly opened courtyard to provide food and drinks to attendees. This celebration is open to the entire Vanderbilt community. 
This year's festivities are co-sponsored by the Association of Vanderbilt Black Faculty and Staff, the Office for Equity, Diversity and Inclusion, the Student Center for Social Justice and Identity, the Association of Vanderbilt Black Alumni, Auxiliary Services, the Department of African American and Diaspora Studies, and the Department of Athletics. 
The university is also a sponsor for the local Juneteenth615 event held on Sunday, June 19, at Fort Negley Park. The event is in conjunction with the African American Cultural Alliance and will feature a Proclamation Ceremony, performing art and history, and top food trucks in the area.