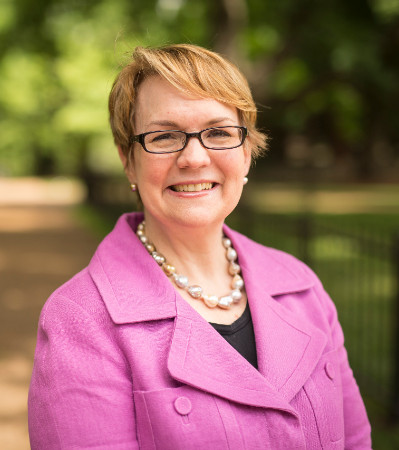 Vanessa Beasley, BA'88, vice provost for academic affairs and dean of residential faculty, will step down on June 30 to become the next president of Trinity University in San Antonio.
Beasley, who is also associate professor of communication studies, has played a key role in the vibrant growth of Vanderbilt's residential colleges and distinctive undergraduate education—providing the highest caliber academic experience inside and outside of the classroom.
"We are grateful for Vanessa Beasley's cutting-edge approach to undergraduate education that has defined the nation's model for the residential academic experience," said C. Cybele Raver, provost and vice chancellor for academic affairs. "While we will deeply miss her leadership and scholarship at Vanderbilt, I look forward to working alongside her as a university leader to help transform the nation's higher education landscape. We wish Vanessa and her family all the best."
Beasley served as dean of The Martha Rivers Ingram Commons for three years before being named associate provost and the first dean of residential faculty in 2018. A year later she was promoted to vice provost and assumed greater responsibilities in her work with campus leaders to serve the university's academic mission. Key experiential areas and programs reporting to her have included the Office of Immersion Resources, Global Education Office, Career Center, Health Professions Advisory Office, and Army ROTC and Navy ROTC. In 2020, her leadership responsibilities expanded again with oversight of four additional areas: the Jean and Alexander Heard Libraries, the English Language Center, the Writing Studio and Tutoring Services.
"Serving as a faculty member and an administrator at Vanderbilt over the past fifteen years has been more meaningful to me than words can express," Beasley said. "Collaborating with other campus leaders, as well as dedicated staff and faculty, we have developed innovative and inclusive programs designed to improve undergraduate education. It will be difficult to say goodbye, and yet I will depart with much love and gratitude for the Vanderbilt community along with deep respect for its core belief that we should all 'dare to grow.'"
Beasley earned her bachelor of arts in speech communication and theatre arts from Vanderbilt in 1988 and went on to the University of Texas, where she received a doctorate in speech communication. She taught at Texas A&M University, Southern Methodist University and the University of Georgia before coming "home" to the Vanderbilt Department of Communication Studies in 2007.
Media was an important part of her life as a student at Vanderbilt, and that has continued in her research, with a focus on race, gender and diversity in U.S. political rhetoric. She is the author of You, the People: American National Identity in Presidential Rhetoric: 1885-2000 and the editor of the volume Who Belongs in America? Presidents, Rhetoric, and Immigration. She is often sought out by the media to provide commentary on political speeches and presidential rhetoric and has been quoted in stories by Time, the Associated Press and USA TODAY, among others.
Beasley's numerous honors and awards include the Thomas Jefferson Award, which recognizes distinguished service by a faculty member to Vanderbilt. Beasley was one of the first faculty members at Vanderbilt to include students enrolled in Next Steps, a certificate program for students with intellectual disabilities, in their academic classes. She also received the Faculty Mentorship Award in the Rhetorical and Communication Theory Division from the National Communication Association.
Beasley has served as president-elect of the Rhetoric Society of America for the past year and will begin leading the organization in July. Her other professional memberships include the National Communication Association and the American Political Science Association.
Beasley is married to Trey Beasley, BA'88, assistant vice chancellor for treasury, whom she met while they were students at Vanderbilt, and they have two adult sons.
Details on a national search for Beasley's successor will be announced later.