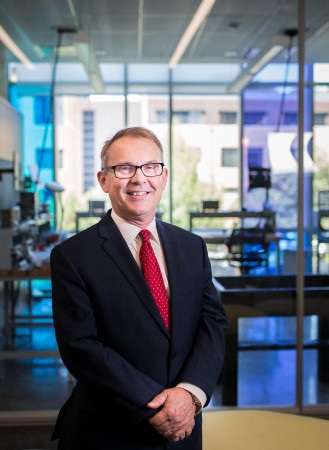 Philippe Fauchet, who has led the School of Engineering through a decade of significant and strategic growth in research collaborations, academic programs, endowed chairs, faculty and student recruitment and more, will step down as dean effective June 30, 2023.
Fauchet, the Bruce and Bridgitt Evans Dean of Engineering and professor of electrical engineering, will return to the faculty in 2024 after a sabbatical.
"We are grateful for Philippe Fauchet's leadership, especially his commitment to building and strengthening technology and innovation partnerships across our campus and region during a pivotal time for both," Chancellor Daniel Diermeier said. "His determination to grow the School of Engineering, including an important focus on enhancing its diversity, will help ensure that our engineering students are prepared to be the next generation of intellectual leaders, entrepreneurs and imaginative problem-solvers."
Under Fauchet's leadership, the School of Engineering has advanced in many aspects. He has worked with his colleagues to expand the size of the tenure track and non-tenure track faculty, as well as to secure generous gifts to establish and support undergraduate programs, endowed professorships, faculty fellowships, the Women in Engineering Leadership Program and the inaugural engineering dean's chair. He also played a key role in the development of the Engineering and Science Building.
"Philippe has contributed so much to Vanderbilt through his leadership of the School of Engineering and has strengthened its foundation for future successes," said C. Cybele Raver, provost and vice chancellor for academic affairs. "I appreciate his dedicated service, especially during the many challenges of the pandemic, and I applaud the many accomplishments he has achieved during the 10 years he has served as VUSE's dean."
"From day one, it has been an honor and a pleasure to lead this uniquely collaborative and collegial engineering school," Fauchet said. "I am particularly proud of the progress we have made in recruiting stellar, diverse students and faculty. I am excited for the next academic year as we continue full speed ahead to prepare the very best students to be future engineering leaders and innovators. Every institution evolves, and now is a good time for bringing a fresh leadership perspective—one that will build on our many accomplishments and continue to increase the School of Engineering's excellence."
Fauchet was recruited to Vanderbilt from the University of Rochester, where he chaired the Department of Electrical and Computer Engineering and founded key multidisciplinary centers. As a professor, he mentored more than 40 doctoral students.
Fauchet earned his doctorate in applied physics from Stanford University after graduating from Brown University with a master's degree in engineering. He earned his undergraduate engineering degree in his home country of Belgium.
His research interests are in photonics, energy and the semiconductor/biology interface, all using silicon-based nanoscience and nanotechnology. Fauchet is the author of more than 400 publications and has edited 14 books.
Fauchet holds numerous patents and has founded one successful startup, SiMPore Inc.
He is a fellow of the National Academy of Inventors, the American Association for the Advancement of Science, the American Physical Society, the Institute of Electrical and Electronic Engineers, the Society of Photo-Optical Instrumentation Engineers, the Materials Research Society and Optica.
Details on an international search for Fauchet's successor will be announced later.