Media Inquiries
Latest Stories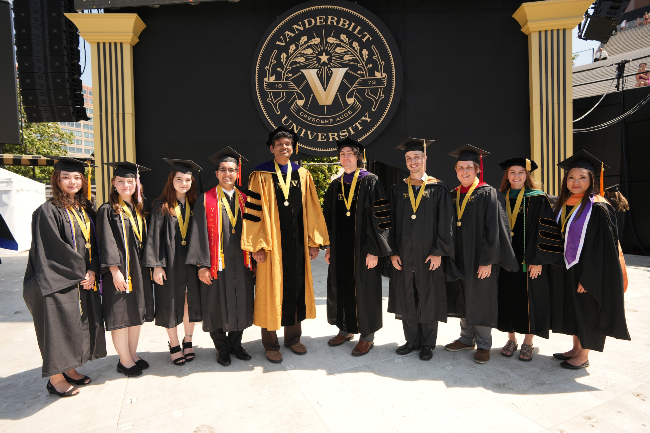 Vanderbilt University has named the Class of 2022 Founder's Medalists.
Since 1877, Vanderbilt has awarded a gold medal to the student graduating with first honors from each of the university's 10 schools and colleges. The awards are named after the university's founder, Cornelius Vanderbilt, who made a contribution to endow the awards in their first year.
ARTS AND SCIENCE
Samantha Nicole Bianco, from Wauconda, Illinois, is this year's Founder's Medalist for the College of Arts and Science. She is graduating with a bachelor of arts. Bianco's curiosity, her creativity in finding answers to her questions and her passion for combating misinformation led her to choose communication of science and technology and computer science as her majors. The first student to complete an Immersion Vanderbilt project, she worked with Professor Keivan Stassun's team in the Department of Physics and Astronomy using data from NASA's Transiting Exoplanet Survey Satellite to conduct a blind search for planets in other solar systems. In April 2021, an article she co-authored on this research was published in the peer-reviewed monthly Astronomical Journal. With Professor Douglas Fisher, Bianco analyzed temperature fluctuations around the world, examining patterns in climate data and formulating new ways to communicate these trends. She has produced podcasts, videos and virtual reality projects; edited for Vanderbilt Vanguard, the online student-run STEM newspaper; and tutored through Next Steps at Vanderbilt and Vanderbilt Student Volunteers for Science. She also has worked as a grader for the Department of Computer Science and as a data science outreach intern at the NASA Glenn Research Center. After graduation, Bianco will begin working as a software engineer in the Washington metropolitan area while pursuing a master's degree in data science.
BLAIR SCHOOL OF MUSIC
Somerset Kea Peede, from Greenwood, Mississippi, is this year's Founder's Medalist for the Blair School of Music. She is graduating with a bachelor of music. While pursuing a major in viola performance and a minor in musicology/ethnomusicology, Peede co-founded and served as president of Nightingales in the Wings, a student organization that provides music to senior living facilities and hospitals within the Nashville medical community. She was also a founding member of the Timbr(e) Ensemble, a contemporary percussion and string collective, and a volunteer instructor at the W.O. Smith Music School. During her time at Blair, Peede additionally worked as a student assistant in the Department of Musicology and Ethnomusicology as well as the Department of Chamber Music. In 2021, she received the Theodore Presser Award, which is given annually by the Presser Foundation and the Blair School to an undergraduate with high levels of academic and musical accomplishment who also exhibits the qualities of leadership and citizenship. She is the third generation of her family to attend Vanderbilt but is the first woman and music major.
DIVINITY SCHOOL
Adrian Faye White, from Dallas, is this year's Founder's Medalist for the Divinity School. They are graduating with a master of divinity. White earned a bachelor of arts from the University of Texas at Austin. At Vanderbilt, they were active in the Presbyterian student organization Company of New Pastors and served as the community co-chair for the school's Student Government Association. In Nashville, White served as the seminary resident at Woodland Presbyterian Church and organized as a member of the local chapter of Southerners on New Ground. They received honors for their project "A Transgender Theology of the Sacraments: Returning the Body to the Font, the Table, and the World," in completion of a concentration in pastoral and prophetic congregational leadership. White took joy in bringing classmates together, whether through creating collaborative study guides or coordinating the school's spring gala. They are proud to be part of this community of prophets and scholars that has cared for each other through many ups and downs. White hopes to be ordained to ministry in the Presbyterian Church (USA), to continue writing and to work toward the LGBTQIA+ community thriving in the church and beyond.
SCHOOL OF ENGINEERING
Shubham Gulati, from Edmond, Oklahoma, is this year's Founder's Medalist for the School of Engineering. He is graduating with a bachelor of engineering and a master of science. Gulati has spent four years in Professor Craig Duvall's Advanced Therapeutics Laboratory conducting research that focused on designing and optimizing novel drug delivery platforms, primarily for osteoarthritis. He quickly realized biomedical engineering would allow him to help patients in diverse ways, so he chose to pursue the accelerated four-year dual degree program in the Department of Biomedical Engineering. He also has been active with numerous service organizations and was co-founder and co-president of oVRcome, a student group that provides virtual reality experiences to patients receiving infusion treatments at the Vanderbilt-Ingram Cancer Center. Through this volunteer experience, he came to understand how simple things, like providing a diversion during a tiring medical treatment, can improve the patient experience. Gulati also has a passion for cultural education, having emigrated from India with his family as a 3-month-old. He has been very involved in the South Asian Cultural Exchange during his time on campus. He will attend New York's Icahn School of Medicine at Mount Sinai in the fall.
GRADUATE SCHOOL
Srivatsav Kunnawalkam Elayavalli, from Chennai, India, is this year's Founder's Medalist for the Graduate School. He is graduating with a doctor of philosophy in mathematics. Elayavalli earned a bachelor of arts in pure mathematics at the University of California, Berkeley. In only four years, and having no research experience before coming to Vanderbilt, he completed eight quality research projects—six currently submitted and two already published in high-ranking mathematics journals—and gave 20 invited talks to research seminars and 10 invited talks to conferences and workshops. Elayavalli has become a regular fixture at conferences in operator algebras and has quickly established himself as an expert in the field. His research looks at intersections between von Neumann algebras, which give a mathematical foundation to quantum mechanics, and related areas of mathematics. He was inspired by S. Balachander, a master of the veena, a South Indian stringed instrument. He worked over the last four years to rediscover Balachander's technique, considered by experts as nearly impossible to recreate. This intense experience greatly impacted Elayavalli's mathematical work. Next year, he will begin a prestigious Simons Postdoctoral Fellowship at the Institute for Pure and Applied Mathematics at the University of California, Los Angeles, followed by a three-year Stefan E. Warschawski Postdoctoral Fellowship at the University of California, San Diego.
LAW SCHOOL
Bryan Joseph Teresi, from San Diego, California, is this year's Founder's Medalist for the Law School. He is graduating with a doctor of jurisprudence. Teresi earned his bachelor's degree in interdisciplinary humanities from the University of San Diego. During the summers, he interned with public defender offices in Middle Tennessee and Maryland. He also worked with the Office of Post-Conviction Defender and the Vanderbilt Criminal Practice Clinic helping indigent clients. He received Scholastic Excellence Awards (highest grade) in contracts, torts, civil procedure, legal writing, constitutional law, criminal procedure: adjudication and actual innocence, as well as the Lightfoot, Franklin & White Best Brief Award. However, Teresi is most proud of receiving the award for best Zoom background in Legal Writing from Professor Roger Alsup and the award for presentation with the most puns in Professor Terry Maroney's Actual Innocence class. Bryan is graduating first in his law school class.
SCHOOL OF MEDICINE
Sarah Hildegard Brown, from Millington, New Jersey, is this year's Founder's Medalist for the School of Medicine. She is graduating with a doctor of medicine. A graduate of the University of California, Los Angeles, Brown was known at Vanderbilt for the way she balanced service, leadership, research and academics. It was, perhaps, her combination of knowledge, communication skills and empathy in patient care that most impressed her faculty mentors. Her supervising faculty repeatedly noted her ability to have "real impact on the care of her patients." As vaccine outreach coordinator and executive co-director of the student-run Shade Tree Clinic, she worked with the underserved and underinsured in Nashville. Brown managed the clinic during the pandemic, worked with the School of Medicine's Social Mission Committee as the homelessness service stream director, volunteered to give COVID-19 vaccines, delivered food through Second Harvest Food Bank, and worked with the Vanderbilt Letters Project to discuss end-of-life goals and advance health care directives. Brown will begin a residency in the internal medicine primary care program at Massachusetts General Hospital in Boston after graduation.
SCHOOL OF NURSING
Tip Rose Tilton, from San Francisco, is this year's Founder's Medalist for the School of Nursing. She is graduating with a master of science in nursing. Tilton earned a bachelor's degree in nursing from Columbia University and a bachelor of science in exercise science from the University of California, Davis. She maintained a 4.0 cumulative GPA at Vanderbilt while working more than 40 hours a week as an RN quality improvement coordinator for John Muir Medical Center and parenting her two children. As part of her nursing informatics major, she created an informatics-based interactive training module that is now used at John Muir. She attributes her success to the work ethic instilled by her parents, who emigrated from Thailand, and especially to her grandfather, who imparted to her the spirit of giving back to one's country and community. A veteran of the U.S. Army, she earned the rank of captain in the Medical Service Corps of the California Army National Guard and was company executive officer for the 297th Area Support Medical Company. Tilton is a clinical nurse informaticist at the Center for Digital Health Innovation at University of California, San Francisco.
OWEN GRADUATE SCHOOL OF MANAGEMENT
Keith Douglas Jones, from Dayton, Ohio, is this year's Founder's Medalist for the Owen Graduate School of Management. He is graduating with a master of business administration. Now a double 'Dore, Jones earned his bachelor of arts in economics in 2012 and was the first generation of his family to complete an undergraduate degree. He discovered a passion for finance while at Owen, for which he credits the dedication and accessibility of the finance faculty, leading him to concentrations in finance and operations. Jones was a Dean's Scholar and an E. Bronson Ingram Scholar, a Recruiting and Admissions Fellow, a Career Management Center peer coach and a teaching assistant for courses in managerial finance, operations management, strategic management and process management. As vice president of learning and development for the Owen Strategy and Consulting Club, he had the opportunity to run mock case interviews with first-year MBA students, helping them prepare for consulting interviews. He describes this as a tremendously rewarding experience, not only to see their progress but to learn from them as well. Jones will be joining the Atlanta office of Boston Consulting Group.
PEABODY COLLEGE
Jong Eun Jung, from Fairfax, Virginia, is this year's Founder's Medalist for Peabody College of education and human development. She is graduating with a bachelor of science. Her parents, who were first-generation college graduates, instilled in her an appreciation for education that inspired her to pursue the education policy track in human and organizational development as her major. Jung has combined this with minors in quantitative methods and data science, resulting in many opportunities, from being a research assistant at the Tennessee Education Research Alliance to having a summer fellowship with the Vanderbilt Data Science Institute and working as a Buchanan Fellow with the Jean and Alexander Heard Libraries. She was executive director of the Vanderbilt Undergraduate Research Journal, served as the Peabody Bridges chair to establish a diversity and inclusion branch of the Peabody Undergraduate Student Council, and was president of Vanderbilt UNICEF. As a Peabody Scholar, she co-led a team to develop a summer book and movie pilot program for the Nashville Public Library that was expanded across the state through the Tennessee State Libraries and Archives. After graduation, Jung will be an education statistics research assistant at the American Institutes for Research and work toward her dream of helping children from all backgrounds access high-quality education.