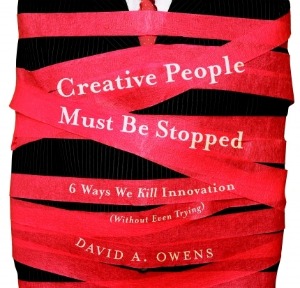 The Campus Reading for the 2022–23 academic year will be Creative People Must Be Stopped: 6 Ways We Kill Innovation (Without Even Trying) by David A. Owens. The book was chosen by Provost and Vice Chancellor for Academic Affairs C. Cybele Raver.
Published in 2011, the book offers a framework for overcoming barriers to innovation and helps readers think about the ways we might be preventing ourselves—and others—from thinking outside the box. Written by Owens, Vanderbilt professor of the practice of management and innovation and Evans Family Executive Director of the Wond'ry, Vanderbilt's Innovation Center, the reading also will help create connections for first-year students as they think about how design and innovation can be personally transformative.
"Creative, out-of-the-box thinking is central to the Vanderbilt experience as we empower our students to expand their understanding, tackle complex problems and take risks," Raver said. "I am grateful to Dave Owens for his bold approach to discovery and innovation at Vanderbilt, and for inspiring our students to think big during their time here."
First-year students will discuss the work through the Vanderbilt Visions program, and transfer students will engage with the book through informal dialogue facilitated by peer mentors throughout the fall 2022 semester.
"I am delighted that Vanderbilt students will have the opportunity to engage with the ideas in this book," Owens said. "Now more than ever we need young people to be able to think divergently, but to do so in ways that can actually lead to positive change. I look forward to Creative People Must Be Stopped serving as a shared framework for improving the innovation capacity and creative culture for our students and the entire campus community."
All first-year and transfer students with a domestic mailing address will receive a physical copy of the book in the mail before fall move-in. Students with an international mailing address will be emailed a digital copy of the book.