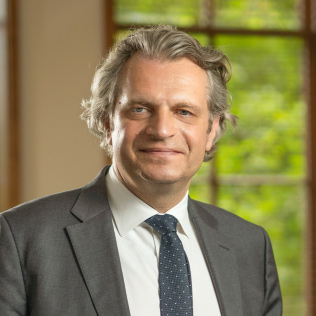 Vanderbilt University Chancellor Daniel Diermeier gave remarks during a public hearing held by the Higher Education and Research Committee of the Folketinget, the Danish Parliament, on May 3.
The Danish Parliament is currently debating the importance of free expression in its universities. Diermeier, who joined the May 3 event virtually, was invited to give an overview on the history and current practice of free expression and open discourse at universities in the United States.
"It is my strong belief that those who care about higher education must pay attention to and defend universities as essential forums for free expression, open inquiry and civil discourse," Diermeier said in his remarks. "Universities are, by design, where we come to debate and probe the questions that matter to us most. And our explorations are richest and most fruitful when they are informed by a wide range of viewpoints."
Diermeier noted that one of the principles upon which open discourse and free expression depend is "maintaining a position of principled neutrality on general political and social matters—matters that do not affect the functioning of the university directly."
"A university's paramount—its essential—mission is to provide the conditions for transformative education and pathbreaking research," he said. "When a university sends a signal that one point of view is preferable over another, it creates, one public statement at a time, a climate inconsistent with its purpose.
"That purpose is not to settle debates, but to foster an atmosphere in which students and faculty can explore even the most difficult and complex issues, and in so doing conduct the vital work of finding insights that can lead to solutions to those issues," he said.
Attendees of the hearing included members of parliament, representatives of the Danish foreign ministry and the media.