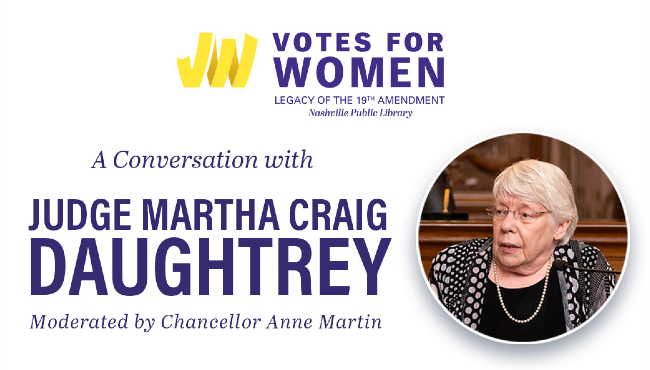 Vanderbilt alumna Martha Craig Daughtrey, BA'64, JD'68, a senior United States circuit judge of the U.S. Court of Appeals for the Sixth Circuit, will be featured at an upcoming event in the Nashville Public Library's Votes for Women: Legacy of the 19th Amendment series.
"A Conversation with Judge Martha Craig Daughtrey" will be on Tuesday, May 17, at 11:30 a.m. at the downtown Nashville Public Library Auditorium. The event will be moderated by Chancellor Anne C. Martin, judge of Part II of the Chancery Court of Davidson County, Tennessee.
Daughtrey has made history both in the state and nationally. She was the first woman assistant U.S. attorney, the first tenure-track woman law professor at Vanderbilt University and the first woman to sit on a Tennessee court of record.
Vanderbilt University is a sponsor of the Nashville Public Library's Votes for Women Room.