Vanderbilt University Chancellor Daniel Diermeier joined Vanderbilt University Medical Center President and CEO Jeffrey Balser, MD'90, PhD'90, for a candid livestreamed discussion April 27 about their experiences leading during the height of the COVID-19 pandemic.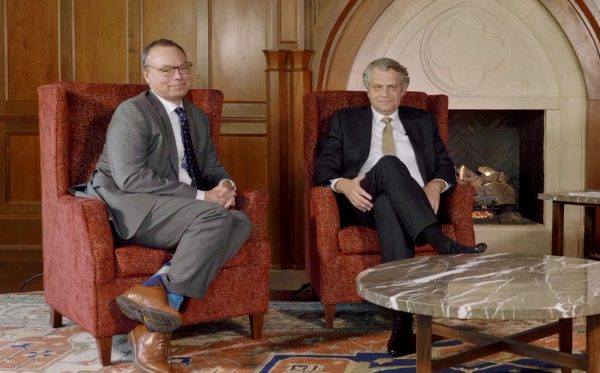 Vanderbilt Trustee Emeritus Michael Ainslie, BA'65, moderated the talk. The event was inspired by a discussion Diermeier and Balser had in a leadership class Ainslie co-taught with Patrick Leddin, associate professor of the practice of business studies, and offered via the undergraduate business minor program.
"I think one thing that was very quickly clear in March 2020 is that this would arguably be the biggest leadership challenge that certainly I had seen in my career so far, and maybe the biggest one we'll ever face," Diermeier said. "And so, it required an approach that was focused on dealing with the evolving situation, but also with our mission. Fundamentally, we are about providing a transformative education for our students and an environment where our faculty can do pathbreaking research. Our decisions had to reinforce that mission and support the Vanderbilt community."
Both men focused on the vital partnership between the two institutions.
"When I reflect on how we did and what got us through the height of COVID, culture is key. And it's very appropriate that we would be here talking about that together because the culture of the medical center is very much the culture of the university," said Balser, who also is dean of Vanderbilt School of Medicine.
"The other thing I would point to is our innovation capacity, and that's something that the university and the medical center also share," Balser added. "It was both an asset and a responsibility because people were really depending on us to do things they knew no one else could do. And yet at the same time, I think it was our proudest moment because we were able to work together and do things that were pretty extraordinary and impacted the whole world."
SHARE YOUR COVID STORY
Members of the Vanderbilt community are being asked to share their stories, artifacts and memories of navigating the COVID-19 pandemic as part of an archive project designed to chronicle this era for future generations.