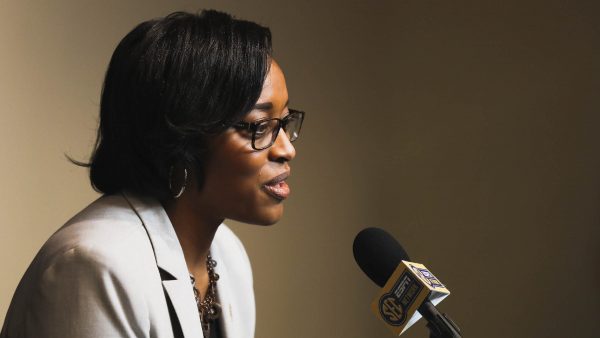 Vanderbilt Vice Chancellor for Athletics and University Affairs and Athletic Director Candice Lee was inducted into the Huntsville-Madison County (Alabama) Athletic Hall of Fame during a ceremony held in April.
Lee is a 1996 graduate of Bob Jones High School in Madison, Alabama. As a senior, she averaged 23 points and 21 rebounds and was named Alabama's Gatorade Player of the Year and Class 5A Player of the Year, in addition to all-state honors.
She is a 2012 inductee in the Bob Jones High School Hall of Fame.
At Vanderbilt, where she was the first women's basketball student-athlete from Alabama, Lee captained the Commodores team that won the 2002 SEC Tournament. The Dores advanced to the NCAA Tournament in each of her six seasons. A member of the SEC Academic Honor Roll in each season in which she competed, she was also the basketball program's first two-time member of the SEC Community Service Team.
A rare triple Dore, Lee received a bachelor of science in 2000, a master of education in 2002 and a doctor of education (higher education leadership and policy) in 2012.
She served in a number of administrative roles with varied responsibilities after the conclusion of her time as a student-athlete, and Lee was named vice chancellor for athletics and university affairs and athletic director on May 21, 2020. She is Vanderbilt's first female athletic director and the first Black woman to head an SEC athletics program.
After leading Vanderbilt Athletics though the COVID-19 pandemic, Lee launched the $300 million Vandy United campaign to enhance and grow the student-athlete experience at Vanderbilt. Lee has also continued her focus on student support and academic achievement. Vanderbilt student-athletes recently recorded their 24th straight semester of a 3.0 combined grade-point average.
Lee was honored with a cover story in the Sports Business Journal to highlight her achievements and was featured on ESPN during Women's History Month. The Nashville Post named her one of its top CEOs of 2022.
While continuing her service on the SEC Council on Racial Equity and Social Justice, Candice is also a member of the Black Athletic Directors Alliance executive committee and a board member for the YWCA of Middle Tennessee, Tennessee Sports Hall of Fame, Nashville Sports Council and Family Center of Tennessee.
Lee is part of the 29th class to enter the Huntsville-Madison County Athletic Hall of Fame.