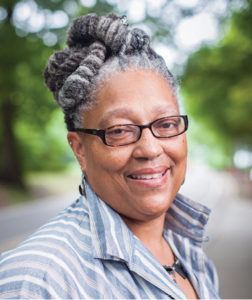 Emilie M. Townes, who has led the re-envisioning of theological education at Vanderbilt Divinity School while increasing the visibility of the institution's historical commitment to seeking justice, will step down as dean effective June 30, 2023.
Townes, Distinguished Professor of Womanist Ethics and Society, will return to the faculty in 2024 after taking research leave. She has led Vanderbilt Divinity School as its 16th dean since August 2013. The school is one of a small number of university-based divinity schools in the United States.
"Emilie Townes' innovative vision, pioneering scholarship and dedication to making the world a better place have positioned the Divinity School as a leader in preparing 21st-century ministers, scholars and community leaders for our increasingly complex world," Chancellor Daniel Diermeier said. "We are grateful for Dean Townes' many achievements, including the building of trans-institutional programs that benefit not only the Divinity School, but the entire university in the years to come."
Diermeier applauded Townes' leadership in launching the James Lawson Institute for the Research and Study of Nonviolent Movements, a cross-disciplinary collaboration between the Divinity School and the College of Arts and Science that advances Lawson's life's work of achieving justice and equality through nonviolent strategies. Lawson, a civil rights icon and one of Vanderbilt's most revered alumni, serves as an adviser. Other programs formed during Townes' tenure include the Public Theology and Racial Justice Collaborative, funded by the Henry Luce Foundation, and the Wendland-Cook Program in Religion and Justice, supported by a gift from Barbara Cook Wendland. 
"Words do not adequately convey my deep admiration for Dean Townes as a truly pathbreaking, brilliant and compassionate leader for the Divinity School, the university and for the wider world," said C. Cybele Raver, provost and vice chancellor for academic affairs. "During her time as dean, the Divinity School strengthened community and school partnerships, recruited and retained outstanding faculty and completed a transformative building renovation that aligns beautifully with the school's mission and values. She has led the shaping of the school's curriculum, which responds to the changing needs and expectations of our students."
One of Townes' most visible projects on campus was the three-year renovation and addition to the Divinity building, which had not been updated since 1960. Among the most significant changes was the creation of an accessible and distinguishable main entrance and lobby that fronts 21st Avenue South. The LEED Silver-certified project, characterized by ample natural light and use of repurposed materials, includes five new classrooms with smart technology, renovated office space and a terrace for quiet reflection.
"It has been the honor of my life to lead a school that shares my fierce commitment to preparing our students to be change leaders in the world," Townes said. "In addition, I have valued the opportunity to work with others across the university on shared goals. After conversations with my spouse, my doctor and Provost Raver, I have decided to step down at the end of the 2022–23 academic year. However, I remain excited about my final year as dean and promise that I will devote every ounce of energy and attention to guiding our students, faculty and staff.
"We are undergoing an external review as we approach a new chapter in the history of this school—with the welcoming of four new faculty colleagues and three administrative staff members in the fall," she added. "This calls for a fresh set of eyes to help discover and then enact what it is we are being called to do as a school that declares as its motto Schola Prophetarum—School of the Prophets."
Townes was recruited to Vanderbilt from Yale University, where she was the Andrew W. Mellon Professor of African American Religion and Theology and associate dean of academic affairs. She is an ordained American Baptist clergywoman and the author of the groundbreaking book Womanist Ethics and the Cultural Production of Evil. Her other books include the forthcoming Walking Through the Valley: Womanist Explorations in the Spirit of Katie Geneva Cannon, co-edited with Stacey Floyd-Thomas, Alison Gise Johnson and Angela Sims; In a Blaze of Glory: Womanist Spirituality as Social Witness and Womanist Justice, Womanist Hope. She also co-edited Womanist Theological Ethics: A Reader with Katie Geneva Cannon and Angela D. Simms, as well as Religion, Health, and Healing in African American Life with Stephanie Y. Mitchem.
Townes earned a doctorate in philosophy from the Joint Garrett–Evangelical Theological Seminary/Northwestern University Program in Religious and Theological Studies in 1989. She also received a doctorate in ministry from the University of Chicago in 1982. Previously, Townes earned her master's and bachelor's degrees from the University of Chicago.
Last year, Townes was the first African American woman to be elected to the presidential line of the Society of Christian Ethics, which she will lead in 2024. In 2008, she was the first African American woman to serve as president of the American Academy of Religion and she was president of the Society for the Study of Black Religion from 2012 to 2016. Townes was inducted as a fellow in the American Academy of Arts and Sciences in 2009. In 2021, she was inducted into the Morehouse College Martin Luther King, Jr. Board of Preachers, Sponsors and Collegium of Scholars.
Details on a national search for Townes' successor will be announced later.