Media Inquiries
Latest Stories
Vanderbilt University's annual Giving Day is tomorrow, April 21. The entire Vanderbilt community is invited to take part in this 24-hour fundraising event. Gifts of all sizes to any area of the university make a difference. 
From noon to 4 p.m., celebrate at Give on the Green, the official Giving Day party happening on Library Lawn. There will be giveaways, lawn games, a lounge area and a performance by DJ Drums. Plus, take part in the Giving Day mosaic portrait, which will be a part of the Vanderbilt campus for years to come.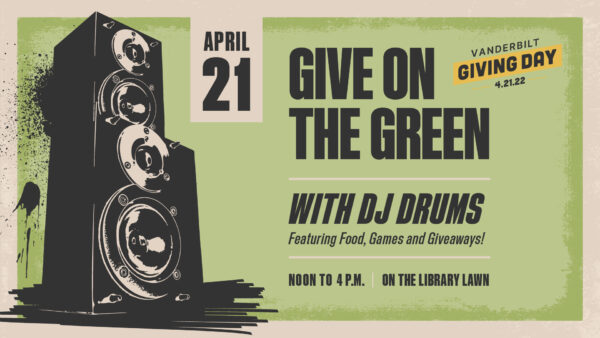 Free boxed lunches will be available from noon to 2 p.m., and King of Pops will offer ice pops from 2 to 4 p.m. Those who donate $22 or more will receive a pair of VU socks as a thank-you gift. Check out the full schedule of on-campus Giving Day events. 
"Vanderbilt's culture is built on the belief that people working in common purpose accomplish more than any individual ever could," Chancellor Daniel Diermeier said. "Giving Day is the epitome of that—with every corner of the Vanderbilt community coming together to invest in moving the university forward." 
Giving Day also is a chance to celebrate the impact of the Vanderbilt community's philanthropy. Tomorrow, the Bishop Joseph Johnson Black Cultural Center will host a grand opening celebration of its new courtyard. Last year's Giving Day donations to the BCC funded the transformation of the outdoor space.  
"I think it's important for donors to see and feel the impact their gifts have," said Rosevelt Noble, assistant dean of residential colleges, director of the Black Cultural Center and faculty head of Stambaugh House. "We'll gather tomorrow and celebrate the fruits of last year's Giving Day. What once was fenced off and overgrown with ivy is now an attractive, inviting, useful gathering space."
The courtyard grand opening will take place from noon to 2 p.m. and will feature a ribbon cutting and invited speakers. The ceremony is open to the entire Vanderbilt community, and attendees are encouraged to support the Black Cultural Center with a Giving Day gift.
Generous members of the Vanderbilt community also have lined up nearly $1.5 million in challenges for donors to unlock with their gifts. These include social media challenges, a first-time donor challenge and an exciting student organization challenge. Two student organizations with the most donors will receive an additional $1,500 apiece when the final donor count is tallied. More information about these and other challenges will be shared throughout Giving Day. 
Make your gift and learn more at vu.edu/givingday.