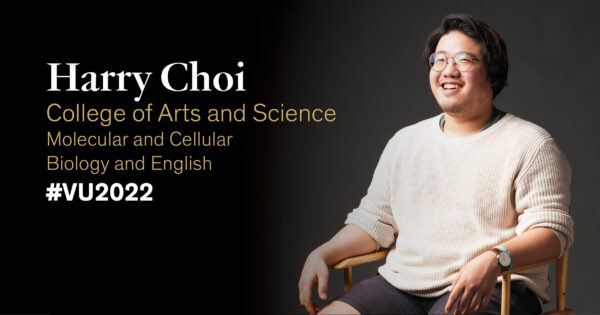 by Amy Wolf
Harry Choi has lived in four countries on three continents, learned five languages and made lasting connections with people from around the globe. At Vanderbilt he is using his international experiences to help people feel a greater sense of belonging on campus.
"I was born in South Korea. Then we moved to Shanghai, China, then Vienna, Austria, and now I'm in Nashville," said Choi, who is double majoring in English and molecular and cellular biology. "I feel like my international experience makes it easier to understand people's differences, people's cultures, their identities."
Choi is known for treating people he's meeting for the first time like old friends and helping them feel valued.
"Every time I meet somebody new, I want it to feel like Vanderbilt Move-In Day when there's just that overwhelming welcomeness," he said.
Choi has done this consistently as a resident adviser, a peer health education intern at the Margaret Cuninggim Women's Center, and an interpreter for patients at the Vanderbilt School of Medicine-led Shade Tree Clinic, which provides free medical care to people with limited resources in Nashville.
"Medicine is one of those disciplines where you really have to be judgment-free to build meaningful rapport," said Choi, who will work in a Vanderbilt research lab after graduation and then apply to medical school. "Hopefully my experiences so far help me build those connections with patients in the future."
Choi said wherever he goes next in the world, he will take Vanderbilt with him.
"I really thank the Vanderbilt community for the experiences that I've had because I was able to grow and form meaningful connections," he said. "To me, belonging is being seen and appreciated by the people around you—but also feeling you can blend and fit in with other people. I've definitely felt that here."