Media Inquiries
Latest Stories
By: Celeste Malone
Formed in 2007, the K-9 program of the Vanderbilt University Police Department has worked to make campus not only a safer place—through their training to detect explosives and narcotics—but a healthier and more welcoming environment as well, thanks to a more recent emphasis on community engagement.  
"Our goal for the K-9 unit is to create a safe environment for our Vanderbilt community," said August Washington, senior associate vice chancellor for public safety and special initiatives. "This program has proven to be an asset due to the number of events on and around campus. With our addition of the community engagement canine teams, we can continue to foster healthy and relaxing spaces for the individuals we serve." 
Vanderbilt's canine teams are part of the Special Operations Unit of VUPS and report to Jason Bates, lieutenant of K-9 operations. Training for the detection teams, which are certified annually by the U.S. Police Canine Association, includes at least 40 hours of initial supervision by a trainer from the Metro Nashville Police Department's K-9 section and a minimum of 16 hours of team training each month.  
Take a look at these incredible pups and their handlers below, and learn more about the work they do on behalf of the Vanderbilt community. 
Explosive Detection Canine Teams 
The explosive detection canine teams, which receive ongoing specialized training related to the prevention of terrorist activity, provide a multilayered security approach to special events at Vanderbilt and patrol sections of the central campus precinct. The teams have 130 preplanned events each year and respond to numerous suspicious package and vehicle calls.  
Narcotic Detection Canine Teams 
The drug detection canines are exclusively utilized by Vanderbilt University Medical Center. The teams provide operational support to VUMC by assisting with locating illicit drugs within the facilities through two ongoing initiatives, decreasing the misuse of opioids and preventing violence in the workplace. 
Community Canine Teams 
In 2018, VUPS created the Community Canine team to assist in outreach efforts and strengthen bonds with the Vanderbilt community. The team focuses on reducing anxieties in a variety of situations, including exams, stressful workdays and personal crises, and aids in the department's efforts to create positive encounters and social interactions with law enforcement. Community members can request appointments to meet Officer Jack and Sergeant Lewis by visiting the VUPS website.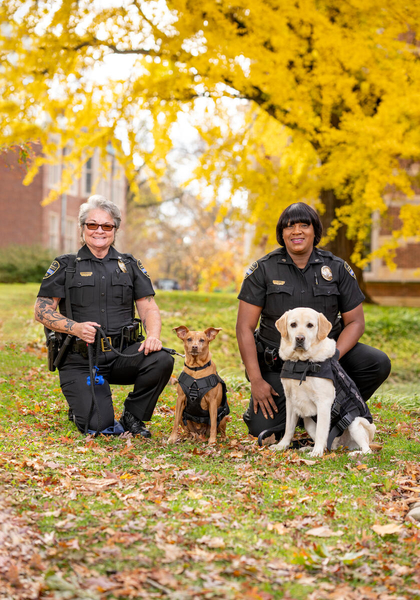 K-9 Officer Levi, who served as a community canine, passed away earlier this year after a brief illness. He served from 2020–22 and his handler was Sgt. Cheryl Bradley.