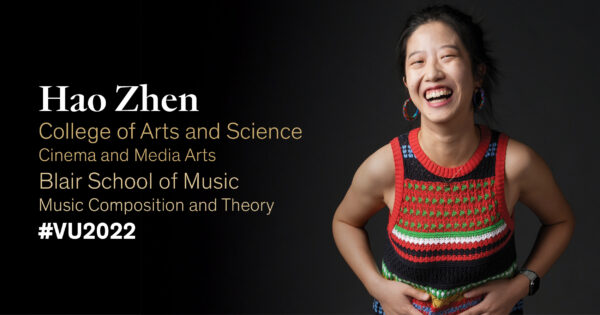 by Amy Wolf
It's not unusual to see Hao Zhen literally bouncing with enthusiasm into the classrooms and rehearsal halls at Vanderbilt Blair School of Music. She traces her excitement about making music to a pivotal moment in her childhood.
"I was really shy when I was young. Then my mom took me to an instrument shop, and I immediately loved the piano. My mom said I put my fingers on every single key and wouldn't leave. Maybe it's because I could enjoy time without talking," laughed Zhen, a music composition and theory and cinema media arts double major.
She's expanded that passion for piano to composing music for multiple instruments, including what she calls her latest obsession, the harpsichord.
"I think it sounds like birds flapping their wings. It's such a special sound, and I just want to write music for such an ancient instrument," Zhen said. "Learning it and writing for the harpsichord give me space for imagining and reconstructing the past and also using that as a way of expressing my feelings for my grandmother."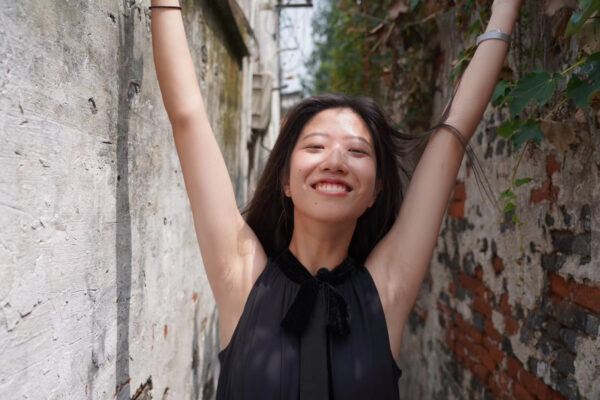 Zhen said her professors and fellow students have inspired her to test her creative spirit.
"Hao is the closest thing to lightning in a bottle I can imagine in a young composer. I would place her among the top 5 percent of students I have taught over the past 20 years with regard to compositional imagination," said Michael Slayton, chair of the composition and theory department. "She is utterly unafraid as a composer—a trait that cannot be taught, and one that will take her as far as she wants to go in her field."
As an international student, Zhen initially worried that language would be a barrier. She, however, quickly bonded with the Blair community through a shared joy of music.
"It's the desire of communication that really matters," she said. "And I definitely found that here."