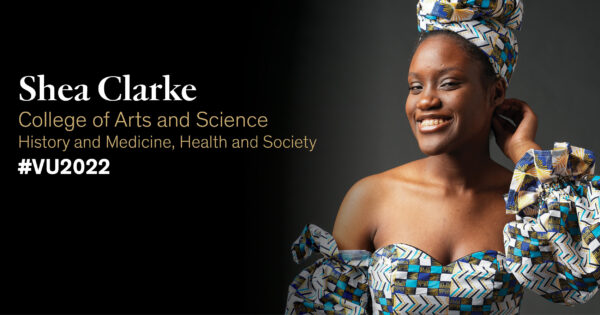 By Amy Wolf
A passion for learning about Africa and the support of her Jamaican seamstress grandmother inspired Shea Clarke to weave together shared passions into a creative business.
As an outlet between classes, the history and medicine, health and society major started sewing modern clothes using authentic African prints. With the support of classmates who helped cut patterns and a fashion show through the African Student Union, Clarke turned a creative hobby into the clothing business Shea Shola.
"You can learn a lot about African history through the textiles and prints because they mean something. And for me, it's about finding my identity and reflecting who I am in the clothing," Clarke said.
Clarke said the culture and support of the Vanderbilt community have inspired her to believe in her ability to challenge herself and try new things.
"A pivotal moment for me here at Vanderbilt came my freshman year. I was taking my first history class with Professor Dennis Dickerson, and I remember being blown away by how passionate he was about what he was teaching," Clarke said. "I thought, whatever I'm doing in life, I have to be that passionate and people need to see that passion. That moment changed my perspective of what I want my future to look like and who I want to be."